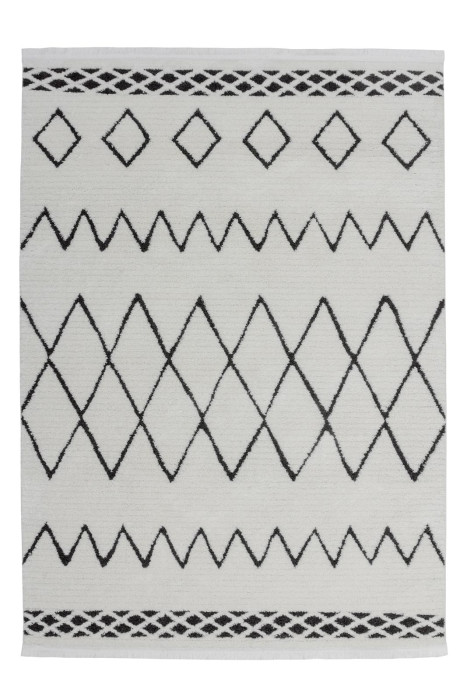 Ethno high pile carpet White RAUTEN and DREIECKE Black rectangular height 23 mm 200x290cm
Item number:
S2OUK000-200290
Article is on stock and dispatched within 24 h (Delivery within ca. 2-4 working days) - "Choose your own delivery date" available.
Free shipment
for flooring of
25m²
within Germany
Suitable accessories
Information
Ethno High
Pile
Rug White RAUTEN and DREIECKE Black
Color:
White / Black
Shape:
Rectangular
Type of manufacturing:
Machine made
Pile / textile fiber used
: 100% Polypropylene / Heatset-Frisée
Backing material:
Jute
Special features:
Highly modern design. Easy to clean and durable.
Quality mark
: Oeko-Tex® Standard 100
Weight:
approx. 2600 g/sqm
Place of manufacture
: Turkey
Size:
200cm x 290cm
Height
: approx. 23 mm
More Information

Ethno high pile carpet White RAUTEN and DREIECKE Black rectangular Height 23 mm

A modern pattern adorns this attractive, durable high pile rug. Diamonds, triangles and serrations in black stand out from the white background. This ethnic design makes the rug an interesting accent in the living area, bedroom or hallway. On a light tile floor or on dark parquet, it provides an individual touch. The beautiful high pile carpet is machine-made and convinces with many good qualities.

High pile carpet made of durable fiber

The durable pile is made of textile fiber 100% polypropylene / heatset frisée. On the reverse side, the carpet is made of jute. The weight is about 2,600 g/sqm. Skaben rectangular floor covering is an easy-care and trendy carpet in high pile quality. It is available in several sizes, so it can be selected to fit any room. Its surface is pleasantly soft and firm. Thus, the carpet also meets high standards in terms of comfort.

Useful product information

The high pile carpet with an interesting ethnic pattern is machine-made in Turkey. Its good quality is certified by the Oeko-Tex® Standard 100 seal of approval. More detailed data about the carpet:

Height: approx. 23 mm,
Pile weight: approx. 2,600 g/sqm,
Pile material: 100% polypropylene / heatset frisée,
Manufacturer: Skaben.

Brand
Skaben
Decor - wood pattern
White / Black
Height (mm)
23,00
Width (cm)
200
Length (cm)
290
Quality
A1 sorting
Pole material
100% Polypropylen / Heatset-Frisée
Manufacturing
Machine made
Pole weight
approx. 2600 g/sqm
Total weight
15,08 kg
Suitable for children
Yes
Manufacturer EAN
Skaben 4056004018028
Seal of approval
Oeko-Tex® Standard 100