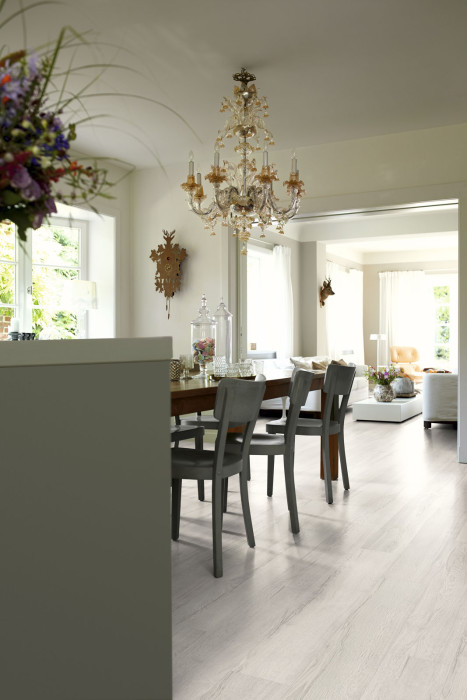 Egger Home design floor 7.5/33 Classic Elva Oak white EHD027 1-plank wideplank 4V
Item number:
EGG_D_337955-0001
Article is on stock and dispatched within 24 h (Delivery within ca. 2-4 working days) - "Choose your own delivery date" available.
Free shipment
for flooring of
25m²
within Germany
Suitable accessories
Information
Manufacturer:
Egger Home
Product type:
Design floor
Series:
7.5/33 Classic
Surface:
Deepskin-R10
Decor:
Elva oak white EHD027
Bevel:
4-sided bevel
Service class:
23/33
Warranty:
25 years in residential / 5 years in commercial use
Installation connection:
CLIC It!
insulation:
integrated, sound-absorbing cork underlay mat
Construction:
GreenTec Board
Thickness:
7.5mm
Width:
19.3cm
Length:
1.292m
Piece in package:
8 this corresponds to 1.99m²
More Information

Egger Home design floor 7.5/33 Classic Elva oak white EHD027 1-plank wideplank 4V

Bright and refreshing is the effect of this noble design floor! Classic Elva Oak white from Egger Home brings classic plank structure with refreshing lightness to living rooms and contract areas. Your home, your shop or the office gain in width and charisma with this innovative design floor. The intelligent GreenTec Board structure with sound insulation made of cork and a waterproof protective layer also makes this beautiful floor the ideal companion in kitchens and wet rooms. Whether you are furnishing a combined bedroom with shower as in a designer hotel or are looking for an uncomplicated all-rounder for a café or bed-and-breakfast - this light and hard-wearing floor will make for bright enthusiasm! Authentic oak decor in white always looks light and maritime! Combine blue tones, pastel colours, grey or black with it! Dark, narrow and windowless corridors gain an inviting flair with this fresh floor! The Blue Angel environmental seal and top marks in terms of freedom from harmful substances ensure an all-round good feeling and the best possible health in living!

The uncomplicated design floor with fresh flair!

The striking Deepskin surface gives this light floor high-quality charisma and depth. The uncomplicated all-rounder with its discreet and elegant touch enhances modern and classic interiors alike. Those who like it bright, fresh and versatile will love this Egger design floor: In old apartments, it acts as a refreshingly modern antipole with stucco ceilings, chandeliers, fine carpets and antiques. If you want to give your rooms a Scandinavian maritime look with lots of blue and grey, this floor is the perfect basis: white sand, blue sea and a few grey clouds! Whether children's room, doctor's surgery or office: this light floor is a refreshing companion everywhere! The easy-care floor covering is waterproof, warm to the feet and sound-absorbing. A 25-year guarantee in the residential sector and a 5-year guarantee in the commercial sector give you the pleasant feeling of choosing an all-round solid quality floor with a long service life.

Bright, versatile and particularly environmentally friendly!

This refreshing design floor brings light into your home! Lay the light floor thanks to the practical UNI fit! - Click connection uncomplicated yourself. The combination-friendly all-rounder is just as suitable for discreet and elegant furnishings as it is for brighter colours. If you like to try out new things, this floor gives you the freedom to experiment with different designs! White oak décor always fits in and pleasantly refreshes dark rooms. The hard-wearing floor covering with integrated footfall sound can of course also be laid on underfloor heating systems! If you are looking for a light and versatile quality floor that can also be used in the bathroom and toilet, this refreshingly uncomplicated design floor is just right for you!

easy to clean and hard-wearing
25 years warranty in the living area
5 years in the commercial sector
suitable for underfloor heating systems
UNI fit! - Click connection

Brand
Egger
Manufacturer series name
7.5/33 Classic
Type of wood or style / pattern
Oak
Decor - wood pattern
Elva white oak EHD027
Color World
Bright & Fresh
Surface
Deepskin-R10
Product group
1-plank plank
Blue Angel Ecolabel
Yes
Bevel
Yes
Type of bevel
4-sided chamfer
Construction
GreenTec Board
Installation
Floating installation
Link / joint / connection type
CLIC It! - Click Connection
Integrated sound insulation
Yes
Underfloor heating
Yes
Humidity resisstant
Yes
Manufacturer warranty in years
25 years in the residential sector / 5 years in the commercial sector
Wear class
23/33
Height (mm)
7,50
Thickness (mm)
7,50
Width (mm)
193,00
Length (mm)
1.292,00
Quality
A1 sorting
Eco-label / Certification
Manufacturer article number
Egger 337 955
Manufacturer EAN
Egger 9007022337955
Manufacturer catalogue

Download

Manufacturer's laying instructions

Download

Manufacturers fact sheet

Download

Manufacturer's warranty document

Download