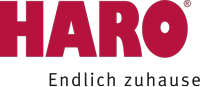 Haro, for over 150 years products that inspire
The foundation stone for Haro, Hamberger Flooring GmbH & Co KG, was laid in Rosenheim in 1866. What was once a small family business founded by Paul Hamberger is still today, after more than 150 years, a pure, owner-managed family business. But otherwise a lot has changed. The traditional company has long since become Germany's leading parquet manufacturer, which is one of the top 10 in Europe. Hamberger Flooring GmbH & Co KG is a subsidiary of Hamberger Industriewerke GmbH, to which the Hamberger Retail, Hamberger Sanitary and an agricultural and forestry division also belong. The group of companies thus advanced to become the largest single German market with 2700 employees, exporting its valued products to over 90 countries worldwide.
Sustainability and environment
This topic is not new for the floor covering manufacturer, as the company has been committed to environmental thinking for more than 150 years. Because working with natural materials, the company motto is, "cannot work against nature, but must work with it". This maxim continues to determine the daily practice of the company. Corresponding certifications, such as the Blue Angel, confirm this environmental competence.
Specifically:
Use of woods according to PEFC (sustainable forest management)
Use of domestic woods, which means a significantly lower environmental impact due to shorter transport distances
the most modern production technologies, selected under environmental aspects
since 1971, the flooring manufacturer has been using the wood waste generated during production to generate green electricity, which is also fed into the public grid
the hydroelectric power station on the company premises also serves to generate environmentally friendly electricity
complete absence of environmentally harmful pollutants during processing
Innovations
When it comes to innovations, Hamberger Flooring GmbH & Co KG is always concerned with realising customer wishes, needs and social developments by applying new ideas and techniques and creating needs-based innovations for the future to improve the quality of life. In this way, the company never follows trends, but sets them. Germany's largest flooring manufacturer has brought numerous, decisive new developments to market in recent years. These include a special spa parquet for all bathroom areas, high-quality premium floors and ecological care series such as "clean & green". In a society that is getting older and older, the focus is also on barrier-free living, which supports each person in their efforts to lead a self-determined life. The manufacturer skilfully demonstrates how to convincingly combine the attractive, practical and beautiful in one convincing way. The medium-sized family business has also produced many innovative solutions for the comfortable laying, use and maintenance of floors.
Service
The floor manufacturer is very keen to stay in contact with his customers at all times. Thus "Inspirations" is a popular, free lifestyle magazine that not only provides information about the latest living and design trends, but also offers many interesting articles about the most diverse areas of life and exciting destinations.
The current catalogue of Haro floor coverings
For all those who want to change their homes and are looking for a new, healthy and hard-wearing floor covering, they will find both the flooring classics and the new products. This ranges from the characterful
Parquet,
the robust laminate floor,
fascinating Celenio wood tiles,
natural cork floor
up to Disano design floors.
The customer can download the catalogue as an online catalogue or receive it as a current print catalogue.
With the company app for tablet and smartphone, anyone can easily and conveniently obtain a complete overview of the complete product package of Hamberger Flooring GmbH & Co KG while on the move. This is part of the service friendliness of the floor covering manufacturer. Further possible questions from installation to cleaning tips and care products for the high-quality floors are offered in easily understandable video instructions.
Natural interior design
Here, flooring manufacturers offer comfort and atmosphere with their wooden floorboards, which also give a unique appearance as wall design elements.