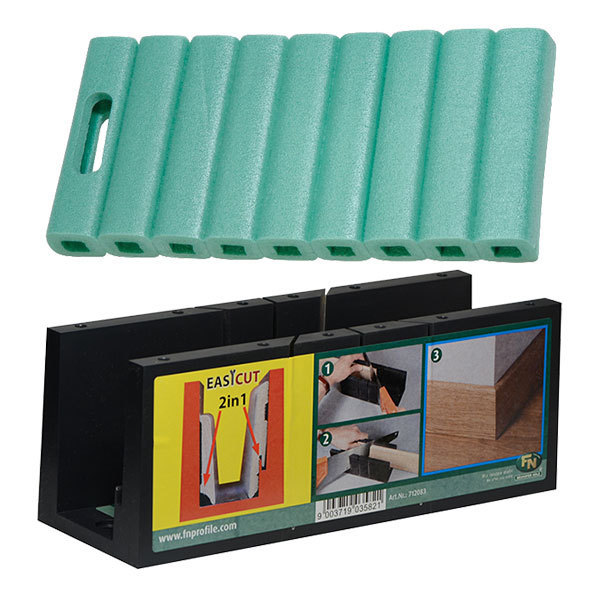 Skirting board installation set - miter box and knee cushion
Item number:
712083-711177
Information
Installation set for skirting boards
Contents:
1 x mitre box

1 x knee cushion
Mitre box:
For the perfect mitre cut
For easy cutting of mouldings up to 85 mm high!
Fixing of mouldings with CH23 clip groove to the provided holder.
The built-in holes allow you to fix the mitre box to the work table.
The built-in Euro perforation makes it easy to present the drawer at the PoS.
Knee cushion
For painless floor laying
Made of harmless PE foam
Pleasant comfort and warmth when working
Can be used as a seat cushion when hiking and camping
Width x height x length: 200 x 45 x 410 mm
More Information

The convenient installation set for skirting boards

Skirting boards are an important element for your floor to unfold its full beauty. What looks like a simple task at first glance turns out to be a difficult undertaking without the right tools. With the mitre box included in the skirting board installation set, you can saw skirting boards up to a height of 85 mm cleanly and accurately at the right angle. To do this, fix the skirting boards with Ch53 clip groove to the holder provided. The holes in the tool allow the mitre box to be fixed directly to the work table. You prefer to work on the floor? The knee cushion included in the set makes it easier to work in a kneeling position.

Installation set for skirting boards - mitre box and knee cushion

This clever combination set combines exactly those components that hobby craftsmen tend to forget. The auxiliary tool for precise mitre cutting and a comfortable base for sustained work in a kneeling position make floor laying a wonderful experience of success. The knee cushion made of harmless PE foam offers comfort and warmth and can also be used as a comfortable seat cushion for outdoor activities.

Contents of the skirting board installation set

Mitre box
Knee cushion, width x height x length: 200 x 45 x 410 mm

Brand
Brebo
Quality
A1 sorting
Manufacturer EAN
Brebo 4056004097375