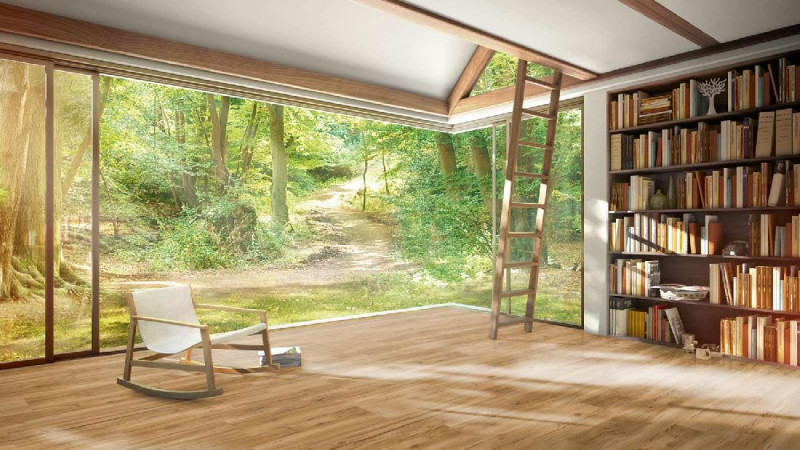 Parador Vinyl flooring Basic 5.3 Oak Memory natural 1-strip 4V with integrated insulation
Item number:
PAR_V_1743003-0001
From 91.4 m² for each €29.21 m² Incl. VAT.
buy and 17
Add the desired quantity to the shopping cart - the price will be updated automatically.
Article is on stock and dispatched within 24 h (Delivery within ca. 2-4 working days) - "Choose your own delivery date" available.
Free shipment
for flooring of
25m²
within Germany
Suitable accessories
Information
Manufacturer:
Parador
Product type:
Vinyl flooring
Series:
Basic 5.3
Finish:
brushed structure
Decor:
Oak Memory natural bevel
:
4-sided bevel
Service class:
23/31
Warranty:
10 years in the living area
Installation connection:
Comfort Click System
Insulation:
integrated impact sound insulation
Construction:
SPC core board
Thickness:
5.3mm
Width:
22.5cm
Length:
1.209m
Piece in package:
8 this corresponds to 2.176m²
More Information

With the Parador vinyl flooring Basic 5.3 Oak Memory natural 1-plank wideplank 4V footfall sound insulation you don't have to do without

Finding a floor covering that makes everyday life much easier is sometimes not so easy. Especially since the most diverse requirements clash every day. Wet and dirty shoes, pets, high heels or heavy furniture are no exception. Not all conventional competitors are willing or able to actually meet these challenges. The charismatic and neat vinyl floor from the Basic 5.3 series has the ability to skilfully navigate around obstacles. This collection has been specially developed to give consumers a good feeling and to specifically enhance their own four walls. A wealth of special technical features helps the flooring to do this.

On the rear side a footfall sound underlay is laminated, which provides for a pleasant acoustics in the room
The panels are impressively strong, easy to maintain and they offer maximum durability and long life
The dirt hardly sticks to the smooth surface at all and if it does, a mop and standard cleaning agents promise more cleanliness
Thanks to the joint-gentle wearing layer, a pleasant walking sensation is created
The material can also be used on uneven surfaces without hesitation

A floor covering with far-reaching, positive consequences

It is pleasant to walk on the laying surface with or without slippers. Anyone who likes to sit on the floor will find 22.5 cm wide and 1.209 m long and 5.3 mm thick panels very supple. The brushed surface structure creates an incredible, almost realistic depth effect. It is hard to believe that we are talking about a vinyl floor with this floor concept. The 4-sided bevels and the light colour emulation provide even more expression. This gives the arrangement a friendly and open note.

This is where elegance and practical use meet

High rooms and huge window fronts immediately remind one of the famous industrial style or loft apartments. It is in such environments that the 1-strip wideplank planks really feel at home. The material is even suitable for laying in a conservatory. The top-class floorers are prepared for everything and in the performance of their duties they are true world champions. Without doubt, the planks know what is expected of them. No matter how upside down the world may be, the floor stands its ground. Now you may understand why this indicator has made a meteoric rise. It is neither a stopgap nor a snapshot. The heartbeat is a symbol of cosiness and helps you to make the big breakthrough in your personal idyllic retreat.
Brand
Parador
Manufacturer series name
Basic 5.3
Type of wood or style / pattern
Oak
Decor - wood pattern
Eiche Memory natur
Color World
Beige brown & Friendly
Surface
brushed structure
Product group
1-plank plank
Bevel
Yes
Type of bevel
4-sided chamfer
Construction
SPC support plate
Installation
Floating installation
Link / joint / connection type
Comfort-Click-System - Click Connection
Integrated sound insulation
Yes
Underfloor heating
Yes
Humidity resisstant
Yes
Manufacturer warranty in years
10 years in residential
Wear class
23/31
Surface layer mm
0,3
Height (mm)
5,30
Thickness (mm)
5,30
Width (mm)
225,00
Length (mm)
1.209,00
Quality
A1 sorting
Eco-label / Certification
Manufacturer article number
Parador 1743003
Manufacturer EAN
Parador 4014809203339