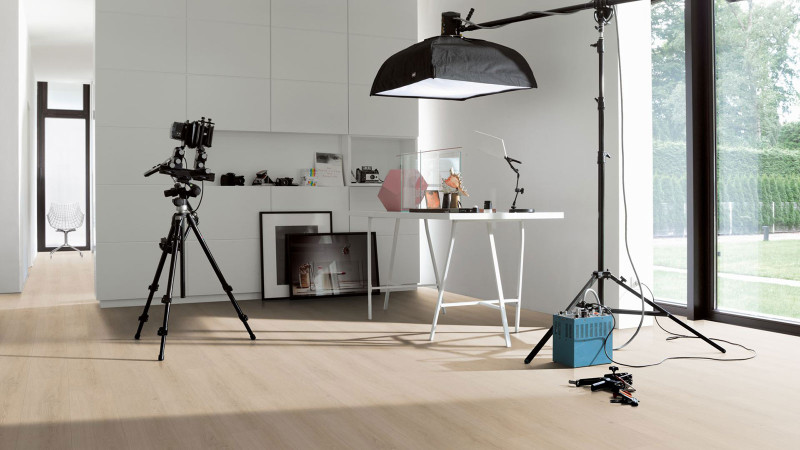 Parador Vinyl flooring Basic 5.3 Oak Studioline sanded 1-strip 4V with integrated insulation
Item number:
PAR_V_1743008-0001
From 91.4 m² for each €29.21 m² Incl. VAT.
buy and 17
Add the desired quantity to the shopping cart - the price will be updated automatically.
Article is on stock and dispatched within 24 h (Delivery within ca. 2-4 working days) - "Choose your own delivery date" available.
Free shipment
for flooring of
25m²
within Germany
Suitable accessories
Information
Manufacturer:
Parador
Product type
: Vinyl flooring
Series
: Basic 5.3
Surface:
brushed structure
Décor
: Oak Studioline sanded Chamfer
:
4-sided chamfer
Use class
: 23/31
Warranty
: 10 years in living area
Installation connection
: Comfort-Click-System
Insulation
: integrated impact sound
insulation
Structure
: SPC core board
Thickness
: 5.3mm
Width
: 22.5cm
Length
: 1.209m
Pieces in package
: 8 this corresponds to 2.176m²
More Information

Parador vinyl flooring: unique look and lots of comfort

Parador vinyl flooring Basic 5.3 Oak Studioline sanded is a comfortable and visually appealing flooring solution for your home. With its 1-strip plank design as well as an integrated impact sound insulation, the vinyl flooring offers a pleasant walking feeling and a unique room ambience. With the Comfort-Click system, installation is quick and easy.

Product specifications

Manufacturer: Parador
Product type: Vinyl flooring
Series: Basic 5.3
Surface: brushed structure
Décor: Oak Studioline sanded
Chamfer: 4-sided chamfer
Use class: 23/31
Warranty: 10 years in living area
Installation connection: Comfort-Click-System
Insulation: integrated impact sound insulation
Structure: SPC core board
Thickness: 5,3mm
Width: 22,5cm
Length: 1,209m
Pieces in the package: 8 (equivalent to 2.176m²)

Endless design possibilities

The Parador vinyl floor Basic 5.3 Oak Studioline sanded comes in a 1-strip plank design with a brushed structure and a 4-sided bevel. This vinyl flooring with its high-quality look and integrated impact sound insulation can be used both in private living areas and in commercial use. With its use class 23/31, it is suitable for all rooms and with its 10-year warranty in the residential sector, it offers maximum comfort and safety.

Easy installation thanks to Comfort-Click system

Thanks to its Comfort-Click system, Parador vinyl flooring Basic 5.3 Oak Studioline sanded is quick and easy to install. Its SPC core board enables a safe and stable installation and ensures a pleasant feeling when stepping on it. Its dimensions of 1209 x 225 x 5.3 mm and its weight of 4.7 kg per package make the vinyl flooring a light and handy flooring product.

Buy the Parador vinyl floor Basic 5.3 Oak Studioline sanded

Make your floor a real eye-catcher and buy the Parador vinyl flooring Basic 5.3 Oak Studioline sanded. With its 1-strip plank look and its integrated impact sound insulation, it offers you an incomparable room ambience. Thanks to the Comfort-Click system, installation is quick and easy. Order your Parador vinyl flooring Basic 5.3 Oak Studioline sanded now at Parkettkaiser and experience unique looks and a lot of comfort.

Brand
Parador
Manufacturer series name
Basic 5.3
Type of wood or style / pattern
Oak
Decor - wood pattern
Oak Studioline sanded
Color World
Beige brown & Friendly
Surface
brushed structure
Product group
1-plank plank
Bevel
Yes
Type of bevel
4-sided chamfer
Construction
SPC support plate
Installation
Floating installation
Link / joint / connection type
Comfort-Click-System - Click Connection
Integrated sound insulation
Yes
Underfloor heating
Yes
Humidity resisstant
Yes
Manufacturer warranty in years
10 years in residential
Wear class
23/31
Surface layer mm
0,3
Height (mm)
5,30
Thickness (mm)
5,30
Width (mm)
225,00
Length (mm)
1.209,00
Quality
A1 sorting
Eco-label / Certification
Manufacturer article number
Parador 1743008
Manufacturer EAN
Parador 4014809203384