Gluing parquet flooring correctly - high-quality floors for your home
A high-quality and therefore durable wooden floor visually enhances any room and at the same time positively affects the indoor climate. To install a parquet floor, there are several options that require different procedures, accessories and tools. In the following, we at Parkettkaiser have summarized important information on this topic for you.
The different ways of laying
To equip a room with a new wooden floor, two installation methods have become established: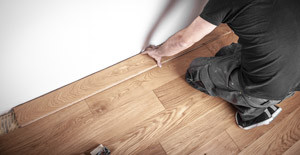 Gluing and
floating installation.
In addition, there are other variants, but they are less known and thanks to modern flooring rather less used:
Partially glued parquet
Nailed parquet
The substrate often determines which type of installation can be used. If the parquet is to be laid on a screed, nailing or screwing is already ruled out in advance. In modern buildings, the screed is laid floating. Blind floors made of wood facilitate the invisible installation of water or power lines. However, they exclude the use of underfloor heating. It can be implemented only with a screed.
The fully glued parquet
Floating installation of modern floor coverings enjoys great popularity, especially among do-it-yourselfers. Thanks to durable and proven click connections, even inexperienced users can easily master the task. What do you need? Merely a level subfloor and a suitable impact sound foil. Parkettkaiser offers you in this area a selection of products around the floating installation.
Modern parquet floors can also be glued down over the entire surface. If underfloor heating is present, gluing is usually recommended. Without an additional intermediate layer of impact sound foil and/or vapor barrier, the wood floor is glued directly to the screed. The transfer of heat from the underfloor heating is immediate, the floor convinces with a significantly better thermal conductivity.
In addition, there are other advantages that speak for a full-surface bonding. At first glance, they are not obvious, but they are nevertheless reflected in the different value. If the parquet is glued, it creates a completely different walking feeling compared to a floating floor covering. In the case of a floating floor covering, the carpet pad used may cause cabinets and/or their contents to begin to wobble a little as they pass by.
If a modern prefabricated parquet with sandwich construction (two or three layers) is used, it is, contrary to a widespread opinion, only slightly more difficult to lay the covering cleanly and correctly. As a skilled do-it-yourselfer, you can therefore also glue your parquet to the full surface yourself without any problems. However, the prerequisite for this is a level floor. Please also observe the manufacturer's instructions when using on underfloor heating.
Partial gluing of the parquet
Partial gluing is another option for laying parquet flooring. It combines the advantages of full-surface bonding and floating installation.
In this method, as in the floating type, an impact sound mat is used, and the parquet itself is glued. In this way, you achieve maximum insulation of impact sound and get the pleasant feeling of walking and value, which is associated with the full-surface gluing. However, this method can be used only if there is no underfloor heating.
It should be noted that not all types of parquet are suitable for this installation. Solid wood planks or prefinished parquet with backing are just two examples that are suitable for partial bonding.
Which type of installation you choose depends on your personal prioritization. Do value and the feeling of walking take first place or is the price-performance ratio in the foreground? Do clinking glasses in the cupboard represent an exclusion criterion or do you want the quietest possible floor? Depending on your decision, you choose the respective type of installation for your parquet from Parkettkaiser.