Why is the proper care of floor coverings important?
Gray stains, bulges and unwanted joints? Brittle and cracked floor coverings that have lost their vitality?

Only proper and adequate cleaning and care can protect floor coverings and panels from rapid wear, discoloration and deformation. Because even the first wrong treatment, can cause serious damage to the material. Moreover, in case of improper care and cleaning, the product loses its manufacturer warranty!

Only solution - the right care!
Here is a list of the biggest mistakes and how to avoid them:

1. All floors: The floor is mopped too damp!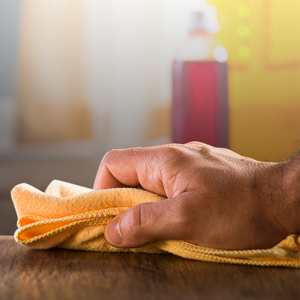 One ofthe biggest mistakes is mopping with too much water! The result of too much water is unsightly discoloration that can't be fixed. In addition, too much moisture causes the floor to swell and shrink. This is how unsightly joints form. "Mist damp" is the key word here. Floor coverings and panels must never be wiped more damp than mist-damp. This applies not only to classic parquet or cork floors, but also to laminate, vinyl and design floors and panels. This is because most floors are built on an HDF core board, which must be protected from moisture.
Wiping with microfiber cloths should be avoided at all costs. While these clean unbeatably well, they also scratch surfaces with their sharp fibers. Soft cotton cloths or special wiping pads for floors are better .

2 . All floors: Scratches
Scratchesare certain death for all floors and panels! They turn dark and cannot be lightened either. Scratches in the decorative layer of laminate, in the protective film of lacquered floors and in vinyl and design floors cannot be undone or sanded off. However, for a temporary solution, we advise you to use a repair compound, such as HARO Accessory Soft Wax C12 with Spatula, which is available in various shades. If the backing layer becomes visible or moisture penetrates through the scratches, the only solution is a complete renewal. Therefore, it is indispensable to pay attention to the removal of small stones, sand and dirt.

3. Parquet and cork floors: no distinction is made between oiled and lacquered surfaces
Itis important to distinguish between oiled and lacquered surfaces in parquet and cork floors , because the wrong care can result in terrible consequences such as discoloration and reduced protection against dirt and moisture. Oiled floors need regular care with oil, otherwise they will discolor and deform.

WOCA Wood Floor Soap Natural should be used for cleaning and regular care of unsealed oiled floors . This cares for the open-pored wooden floor with its re-lubricating properties. In addition, we recommend regular maintenance approx. every 6 weeks with WOCA Oil Refresher Natural. With the Refresher, a matt and protective oil film is applied to the surface. This keeps the oiled or waxed floor beautiful and resistant for longer. When a major maintenance is due (depending on use approx. every 1-3 years) we advise thorough cleaning with WOCA Intensive Cleaner for cleaning dirty wood surfaces. For subsequent care, we rely on WOCA Natural Care Oil. The oil is worked into the wood with a dry cotton cloth (or a polishing machine) until the floor cannot absorb any more oil. Remaining oil must (!) then be removed absolutely and immediately with a clean rag or cloth.

4. Matt floors: No distinction is made between silk matt and matt
Matte care is specially designed for matte floors, to give them a supporting matte finish. If silk-matt or even glossy floors are treated with care for matt surfaces, they lose their gloss. This cannot be restored even by subsequent cleaning with suitable products.
Lacquered parquet, vinyl, design and laminate floors are available in matt and silk matt. These different floors require different cleaning and care products not only because of their material, but also their finish . The cleaning and care must be matched to the floor, because each surface requires different care contents.

For silk matt lacquered floors , we recommend Forbo eurocol 887 Euroclean Multi Parquet and Floor Care Silk Matt for cleaning and care. This miracle product, first choice, is simply added to the mopping water for cleaning. And intensive care also succeeds with Forbo eurocol 887 Euroclean Multi, the liquid is applied with a soft cloth on the dry floor evenly thin and allowed to dry for about 1 hour.
For the matte finish, this care is available in matt, Forbo eurocol 887 parquet and floor care matt.

5. Laminate, vinyl and design floors and panels:Too harsh, aggressive cleaners and care products
When wet cleaning, sharp, aggressive cleaning agents such as scouring agents, floor polishes or polishes should be avoided. These damage the surface and can cause scratches that allow moisture to penetrate and destroy the floor. Cleaning with superheated steam is also strongly discouraged. Instead, we recommend cleaning and care with WOCA Vinyl Laminate and Lacquer Soap Natural. The water-based full care lacquer soap can be mixed with clear water and used like normal mopping water. In addition, for even more intensive care, it can also be applied thinly to the entire floor surface with a cotton cloth and left to dry.

6 . Decking boards
If you lay your new decking boards once and never think about it again, you can expect to have to renovate them again after just a few years. Due to constant exposure to the weather, decking boards require special care. We recommend WOCA Exterior Cleaner, which reliably removes dirt and growth and protects the decking boards preventively. The cleaner is mixed with water in a ratio of 1:2 and used with a nylon brush. Undiluted, it removes even stubborn dirt. In addition, we advise the use of WOCA Exterior Oil Natural to protect wooden decking boards. This miracle product penetrates the surface, protects, strengthens and yet preserves the natural wood character.

The topic of "proper cleaning and care" should not be neglected. At www.parkettkaiser.de you will find cleaning and care products for all floors from various manufacturers.