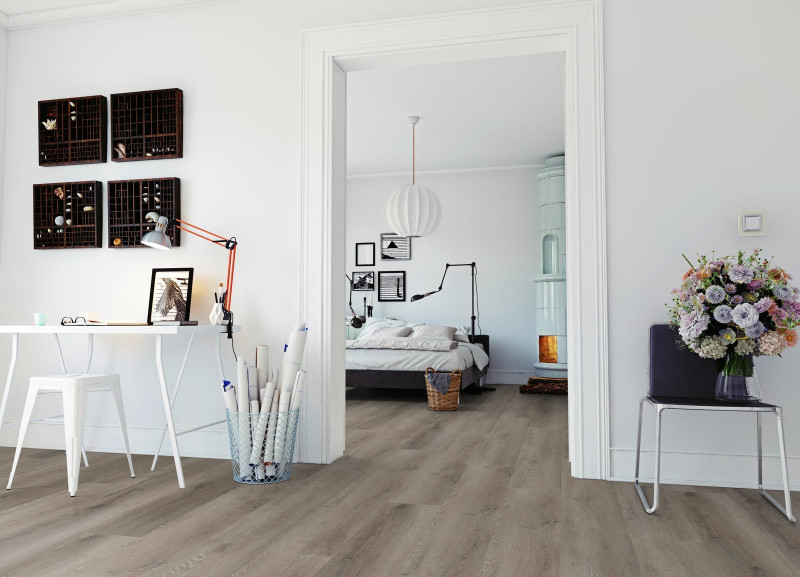 Skaben Design Rhino Glue-Down 30 XL Brown Oak 1-plank M4V for gluing
Item number:
OF_V_300030EFO-0001
Article is on stock and dispatched within 24 h (Delivery within ca. 2-4 working days) - "Choose your own delivery date" available.
Free shipment
for flooring of
25m²
within Germany
Suitable accessories
Information
Manufacturer:
Skaben
Product type:
Vinyl flooring
Series
: Rhino Glue-Down 30 XL
Surface:
Synchronous embossing. Skaben EIR Real Feel (synchronous surface) - for the real wood feeling.
Décor:
Brown Oak Brownfels
Bevel
: 4-sided micro bevel
Design
: 1-plank wideplank
Use class
: 23/31
Warranty
: 25 years residential / 5 years commercial
Installation joint:
for gluing
Insulation
: without insulation
Construction
: EIR (Embossed in Register) synchronous embossing Surface. Wear layer + scratch resistant PU sealant, High resolution decorative film, Extremely stable middle layer
Thickness:
2mm
Width:
22.86cm
Length
: 1.524m
Pieces in package
: 14 this corresponds to 4.87m²
More Information

Looks deceptively similar to its natural modelThe

newly developed vinyl floor combines the best properties with the natural look of a real wood floor. It's hard to believe that we are talking about a synthetic flooring in Skaben Design Rhino Glue-Down 30 XL Oak Greige Braunfels Plank M4V. One plank has a total thickness of just 2 mm, and yet this lowly construct hides a real powerhouse. This aspect already becomes clear with the top layer. above the high-resolution decorative film there is an abrasion-resistant and scratch-resistant PU surface sealing. This module is refined with a so-called EIR (Embossed in Register) synchronous embossing. The result is a lifelike wear layer that even emulates the actual feel of wood without distortion. In the same breath, gray puristic color gradients come into focus. For the oak Greige Braunfels decor a very successful support. Wood grains and annual rings thus attract attention even better. Just like the other features.

The dirt- and bacteria-repellent surface is recommended for allergy sufferers or target groups with particularly high hygiene requirements
The material is insensitive to water and can be used in wet rooms at any time
Can also be combined with underfloor heating due to its heat transfer resistance
Free of harmful plasticizers and solvents

Features a first-class equipmentThe linchpin of

this product is clearly the extremely stable center layer. It does a damn good job and doesn't buckle even when things get really dicey. Every single installation element was built on this excellent basis. The floor ornament also comes in handy when it comes to floor care. Normal sweeping or vacuuming is often enough. The

beauty of the flooring has already been laid in the cradleWhen

you take a look at the floor picture, then you automatically feel magically attracted by the refreshing approach. The overall appearance of the 22.86 cm wide and 1.524 m long planks increase the sense of well-being. It's also hard to resist the rustic charm. As of now, you no longer have to put off transforming your living space. Get out of deadlocked waters and give your home retreat a makeover.
Brand
Skaben
Manufacturer series name
Rhino Glue-Down 30 XL
Type of wood or style / pattern
Oak
Decor - wood pattern
Brown oak Braunfels
Color World
Grey & Puristic
Product group
1-plank plank
Bevel
Yes
Type of bevel
4-sided micro bevel
Construction
EIR (Embossed in Register) synchronous embossing surface. Wear layer + Scratch resistant PU sealing, High resolution decorative film, Extremely stable center layer.
Installation
Glue-down installation
Link / joint / connection type
For gluing
Integrated sound insulation
No
Underfloor heating
Yes
Humidity resisstant
Yes
Manufacturer warranty in years
25 years in the residential sector / 5 years in the commercial sector
Wear class
23/31
Surface layer mm
0.3
Height (mm)
2,00
Thickness (mm)
2,00
Width (mm)
228,60
Length (mm)
1.524,00
Quality
A1 sorting
Manufacturer EAN
Skaben 4056004009774
Manufacturer's laying instructions

Download

Manufacturers fact sheet

Download

Manufacturer's care instructions

Download