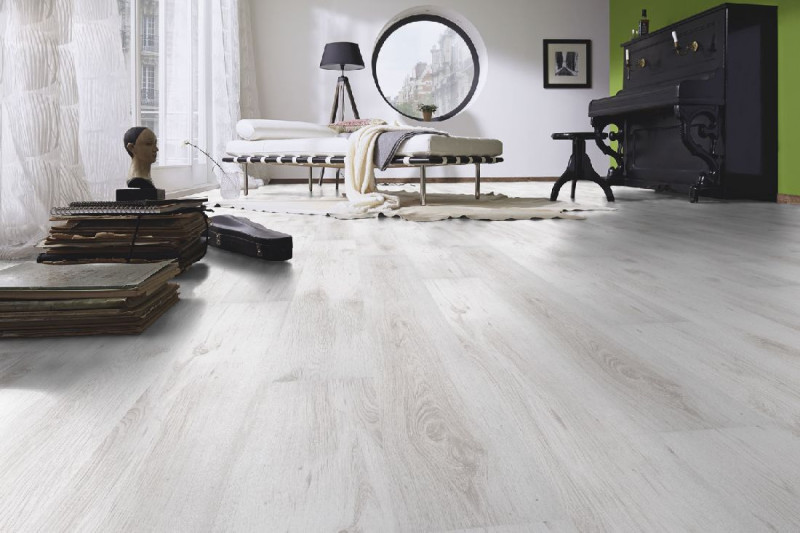 Skaben Laminate Lofty 7 Oak White 1-plank Full Plank
Item number:
SK_L_81207KR-0001
Article is on stock and dispatched within 24 h (Delivery within ca. 2-4 working days) - "Choose your own delivery date" available.
Free shipment
for flooring of
25m²
within Germany
Suitable accessories
Information
Manufacturer:
Skaben Laminate
Series
: Lofty 7
Surface:
wood pores / typical wood texture
Decor
: White Oak Chamfer
:
no joint
Usage class
: 23/31
Abrasion class
: AC3
Warranty
: 20 years warranty in residential / 2 years in commercial
Installation connection:
locking mechanism
Construction
: On the top of the floor - is applied a particularly resistant overlay protective film, which is pressed together with an attractive, resinous decorative film to form a wear-resistant surface. A specially swell-tempered and highly compressed fiberboard forms the carrier layer (HDF, E 1). On the underside of the carrier board, a moisture-inhibiting stabilizing film ensures the high dimensional stability of the Skaben laminate.
Thickness:
7mm
Width:
19.3cm
Length:
1.376m
Pieces in package:
9 this corresponds to 2.39m²
More Information

Skaben Laminate Flooring Lofty 7 Oak White Wideplank

With a white oak laminate, you will fulfill your dream of a naturally designed flooring. The white planks leave an ultra-modern and elegant impression. As a trendsetter, you already know that the Scandinavian interior style is becoming more and more fashionable. Not without reason, because the bright fresh colors lift the mood and look inviting. You'll feel chipper as soon as you get up in the morning and enjoy the fine wood texture with knots and fine cracks. Spice up the purist look with more colorful shades and decorate your living spaces as you please with colorful pillows, fancy curtains or a patchwork rug. This way, the floor itself doesn't look quite as clean, but provides the ideal foundation to casually showcase your vintage or designer furniture.

However, you can also go for the classic option with heavy sturdy wooden furniture and darker tones. In this way, you set memorable accents and create exciting contrasts.

Skaben Laminate Lofty 7 Oak White Plank - the advantages at a glance:

Insensitive to stains and the effects of light
Durable, abrasion resistant and pressure resistant even with heavy furniture
Easy to clean and comfortable to walk on
Flame retardant to protect your safety
Can be installed over underfloor heating
No risky plasticizers and diethylhexyl phthalate are used
Meets the highest German quality standards

Resistant white oak laminate

With the model Skaben Laminate Lofty 7 White Oak Plank you will always hit the bull's eye, because it is so versatile and can be used optimally in all heavily used private living spaces. In the commercial sector, use it to stylishly set off moderately used conference rooms or hotel rooms. The special surface prevents stains from forming on the flooring. Environmental awareness is growing among most people, which is probably why you are also interested in a sustainable floor. With this model, you have the advantage that harmful plasticizers have been deliberately avoided. Thus, this floor is particularly suitable for the children's and youth room. But even if you want to live health-conscious, it is time to decide against phthalates. The commonly used plasticizer DEHP, for example, damages reproductive ability because it can cause hormonal changes. Even years later, plasticizers can still cause dangerous fumes. But you don't have to worry about that with these light-colored planks. In addition, they are flame retardant, insensitive to light and can withstand any amount of pressure.

Dimensions: 1376 x 193 mm
Thickness: 7 mm
Use class private living area: Use class 23 | Heavy duty use in private living areas (hallway, kitchen, living room, home office)
Use classcommercial area: Use class 31 | Moderate stress in commercial areas (hotel rooms, conference rooms)
Warranty: 20 years for private use
Resistance to abrasion: AC3
Installation method: locking mechanism lengthwise and crosswise
Thermal resistance: 0,05 (m²K)/W

Brand
Skaben
Manufacturer series name
Lofty 7
Type of wood or style / pattern
Oak
Decor - wood pattern
White oak
Color World
Bright & Fresh
Surface
Wood pores / Typical wood structure
Product group
1-plank plank
Blue Angel Ecolabel
Yes
Bevel
No
Type of bevel
No joint
Construction
On the top side of the floor - is applied a particularly resistant overlay protective film, which is pressed together with an attractive, resinous decorative film to form a wear-resistant surface. A specially swell-tempered and highly compressed fiberboard forms the carrier layer (HDF, E 1). On the underside of the carrier board, a moisture-inhibiting stabilizing film ensures the high dimensional stability of the Skaben laminate.
Installation
Floating installation
Link / joint / connection type
Locking mechanism - Click connection
Integrated sound insulation
No
Underfloor heating
Yes
Humidity resisstant
No
Manufacturer warranty in years
20-year warranty in residential / 2-year warranty in commercial
Wear class
23/31
Abrasion class
AC3
Height (mm)
7,00
Thickness (mm)
7,00
Width (mm)
193,00
Length (mm)
1.376,00
Quality
A1 sorting
Eco-label / Certification
Manufacturer EAN
Skaben 4056004098501
Manufacturer's laying instructions

Download

Manufacturers fact sheet

Download

Manufacturer's care instructions

Download