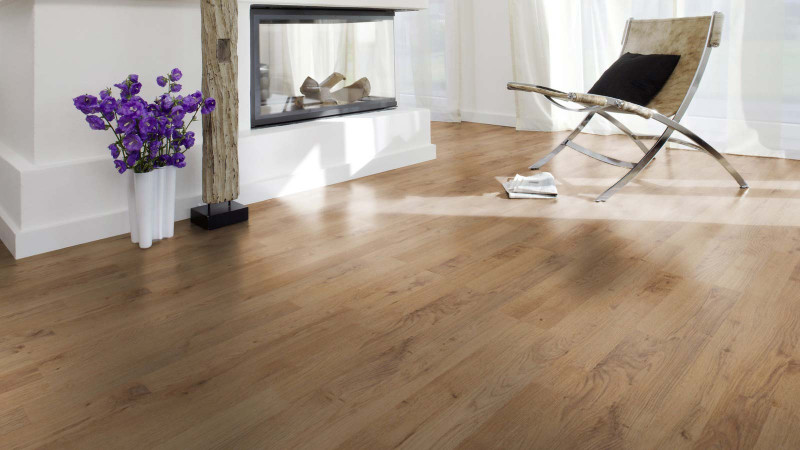 Skaben Laminate Flexi Plus Plau Oak 3-plank block flooring
Item number:
SK_L_01267KR-0001
Article is on stock and dispatched within 24 h (Delivery within ca. 2-4 working days) - "Choose your own delivery date" available.
Free shipment
for flooring of
25m²
within Germany
Suitable accessories
Information
Manufacturer:
Skaben Laminate
Series:
Flexi Plus
Surface:
Natural vivid wood textures
Decor:
Plauer oak
Bevel:
No joint
Service class:
23/32
Abrasion class:
AC4
Warranty:
25 years warranty in residential / 3 years in commercial use
Installation joint:
Clic system
construction:
On the top side of the floor - a particularly resistant overlay protective film is applied, which is pressed together with an attractive resin-based decorative film to form a wear-resistant surface. A specially swelling and highly compressed fibreboard forms the carrier layer (HDF, E 1). A moisture-inhibiting stabilising film on the underside of the carrier board ensures the high dimensional stability of the Skaben laminate.
Thickness:
8mm
Width:
19.3cm
Length:
1.38m
Piece in package:
8 this corresponds to 2.13m²
More Information

The Skaben Flexi Plus Plauer oak 3-plank laminate ship's floor is something you simply have to experience for yourself

The beautifully prepared ship's floor creates a unique living environment without much thought. In the same breath, the laminate flooring shows dominance in combination with brilliant quality standards. The so-called carrier layer is formed by specially swellabled and highly compressed fibreboards. The carrier boards are supplemented on the underside by a moisture-inhibiting stabilising film. The accessory ensures the required dimensional stability and at the same time offers sufficient resistance. Thanks to the high-quality construction, the starting base is permanently able to minimise the stresses that occur. Compression-resistant, largely scratch-resistant and abrasion-resistant properties guarantee a continuously robust wear layer. You should also look at these special features.

The material is characterised by its constant elasticity, insensitivity to light and durability
Thanks to renowned awards and seals of approval, the laminate flooring impressively proves its harmlessness for living
The meaningful article MADE IN GERMANY is mainly made from renewable raw materials and sustainable forestry
There is a warranty claim of 25 years in the residential sector and 3 years in the commercial sector
No plasticizers (phthalates) and diethylhexyl phthalate (DEHP) contained in the boards

SKABEN has truly succeeded in realizing the lifelike implementation

The high esteem in which Skaben Flexi Plus Plauer Oak 3-plank laminate is held is no accident. Especially since this product is considered to be an almost perfect real wood flooring alternative. There is no question that this noble floor decoration offers a maximum of individuality and at the same time creates a timeless natural living oasis. The certain core proportion of knots, grains and grooves reinforces the impression of the lively wood structure. The reddish-brown continuous colour gradations are also absolutely positive in relation to the overall image synthesis. The newly developed trend decor Plauer Eiche ignites a real firework. The rustic character of the 19.3 cm wide, 1.38 m long and 8 mm thick panels clearly sets the tone. The stylistic device realizes even unusual living desires. You only have to be 100% committed to this revelation.

Like a poem

The applied overlay protective film provides even more attractiveness. In combination with the resin overlay, a sustainable design of the laminate flooring is deliberately created. Do you want to move chairs and tables at will? Go ahead, the plank pattern will not stop you. There are plenty of furnishings that have a certain weight of their own. Luckily, the panels are designed in such a way that they do not sink into the floor because of a weakness. If cigarette burns fall to the ground, this is of course annoying. But nothing will happen to the top layer, because the laminate is flame-retardant. Easy-care features round off this remarkable indicator in an outstanding way.
Brand
Skaben
Manufacturer series name
Flexi Plus
Type of wood or style / pattern
Oak
Decor - wood pattern
Plauer oak
Color World
Red brown & Warm
Surface
Natural living wood structures
Product group
3-strip ship's floor
Blue Angel Ecolabel
Yes
Bevel
No
Type of bevel
No joint
Construction
On the top side of the floor - is applied a particularly resistant overlay protective film, which is pressed together with an attractive, resinous decorative film to form a wear-resistant surface. A specially swell-tempered and highly compressed fiberboard forms the carrier layer (HDF, E 1). On the underside of the carrier board, a moisture-inhibiting stabilizing film ensures the high dimensional stability of the Skaben laminate.
Installation
Floating installation
Link / joint / connection type
Clic system - Click connection
Integrated sound insulation
No
Underfloor heating
Yes
Humidity resisstant
No
Manufacturer warranty in years
25-year warranty in residential / 3-year warranty in commercial
Wear class
23/32
Abrasion class
AC4
Height (mm)
8,00
Thickness (mm)
8,00
Width (mm)
193,00
Length (mm)
1.380,00
Quality
A1 sorting
Eco-label / Certification
Manufacturer EAN
Skaben 4056004099027
Manufacturer's laying instructions

Download

Manufacturers fact sheet

Download

Manufacturer's warranty document

Download

Manufacturer's care instructions

Download