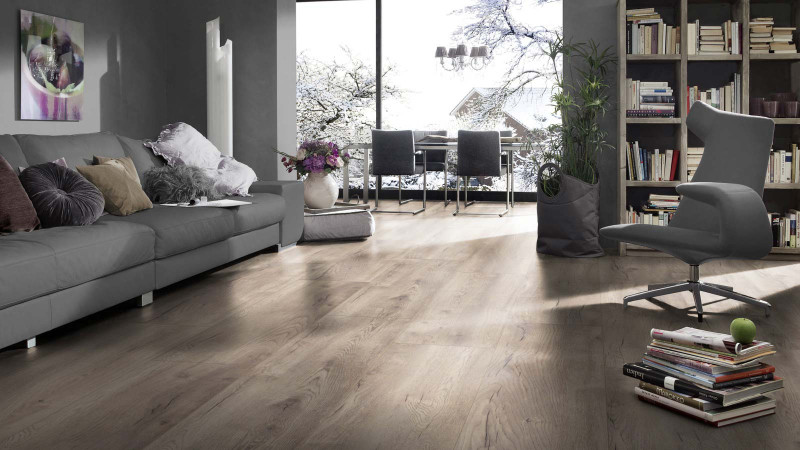 Skaben Laminate XXL Plus Oak Beige 1-plank wideplank 4V
Item number:
SK_L_55727KR-0001
Article is on stock and dispatched within 24 h (Delivery within ca. 2-4 working days) - "Choose your own delivery date" available.
Free shipment
for flooring of
25m²
within Germany
Suitable accessories
Information
Manufacturer:
Skaben Laminate
Series:
XXL Plus
Surface:
Real wood look due to matching of decor and embossing
Decor:
Oak beige
Bevel:
4-sided bevel
Service class:
23/32
Abrasion class:
AC4
Warranty:
25 years warranty in residential area / 3 years in commercial area
Laying connection:
Clic system
Construction:
On the top side of the floor - a particularly resistant overlay protective film is applied, which is pressed together with an attractive, resin-based decorative film to form a wear-resistant surface. A specially swelling-tempered and highly compressed fibreboard forms the carrier layer (HDF, E 1). A moisture-inhibiting stabilising film on the underside of the carrier board ensures the high dimensional stability of the Skaben laminate.
Thickness:
8mm
Width:
32,6cm
Length:
1,38m
Piece in package:
5 this corresponds to 2,249m²
More Information

Skaben Laminate Flooring XXL Plus Oak Beige 1-plank wideplank 4V

Natural, easy-care and timelessly beautiful, this is laminate from Skaben

The floor is just as important as the furniture or accessories for a well-kept home in which one feels comfortable. Because when you enter a room, it quickly attracts attention. That is why it is important to consider which floor covering to use. Because it should not only convey a real feeling of living, but also delight and inspire its owners for a long time.

A laminate floor from Skaben is always a good choice

With Skaben Laminate Laminate XXL Plus Oak Beige 1-plank wideplank 4V, the renowned flooring manufacturer Skaben has created a floor which, with its particularly authentic, natural design, can hardly be distinguished from a real wood plank. Because Skaben leaves nothing to chance during production. With these laminate country house floorboards, a long-lasting quality of living at the highest level is guaranteed, which knows how to convince through robustness, resilience and durability.

The special properties of Skaben laminate plank

Pressure-resistant, hard-wearing and largely scratch-resistant.
Foot-warm floor covering that leaves a pleasantly warm feeling under your feet even on cold days when walking barefoot.
Comfortable surface that absorbs footfall sound, therefore also a particularly good choice for children's rooms.
Abrasion resistant and flame retardant.
Low maintenance: A vacuum cleaner and an occasional damp mop are all that is needed for a damp wipe.

Details of the laminate plank from Skaben

The dimensions are 1,380 mm x 326 mm with a thickness of 8 mm.
Service class 23 for the private living area (heavy-duty use, living room, home office, corridor, kitchen).
Service class 32, normal wear and tear for commercial use, such as waiting rooms and offices.
Thermal resistance: 0.06 (m²K) /W

Structure of laminate XXL Plus Oak Beige 1-plank wideplank 4V

The top side of the laminate is protected by a specially resistant overlay protective film, which is pressed together with the decorative resin decorative film to form a wear-resistant surface. A high-density fibreboard serves as the carrier layer and its dimensional stability is ensured by a moisture-inhibiting stabilising film on the underside.

The Skaben laminate flooring and its many advantages

a beautiful wood decor from the specialist
brilliant optics
dimensionally stable and a perfect fit
high-grade finishing
consists mainly of the renewable natural material wood (from sustainable forestry) and has been awarded, among other things, the "Blue Angel", the eco-label for particularly environmentally friendly products.
Up to 25 years warranty for private use.
A price-performance ratio that is quite respectable.
Contains no plasticizers such as phthalates and no diethylhexyl phthalate (DEHP), which makes the laminate ideal for children's rooms.
No time-consuming preparation of the subfloor is necessary, as it is not glued but floating.
The laying is also easily possible for people with little technical ambition. The Clic system from Skaben makes it possible. This can save a lot of money.
No hazardous waste, the laminate can simply be disposed of or thermally recycled.

Information material:

The manufacturer provides his customers with installation instructions and care instructions for the laminate for downloading.

Brand
Skaben
Manufacturer series name
XXL Plus
Type of wood or style / pattern
Oak
Decor - wood pattern
Oak beige
Color World
Grey & Puristic
Surface
Real wood look due to matching of decor and embossing
Product group
1-plank plank
Blue Angel Ecolabel
Yes
Bevel
Yes
Type of bevel
4 sides chamfered
Construction
On the top side of the floor - is applied a particularly resistant overlay protective film, which is pressed together with an attractive, resinous decorative film to form a wear-resistant surface. A specially swell-tempered and highly compressed fiberboard forms the carrier layer (HDF, E 1). On the underside of the carrier board, a moisture-inhibiting stabilizing film ensures the high dimensional stability of the Skaben laminate.
Installation
Floating installation
Link / joint / connection type
Clic system - Click connection
Integrated sound insulation
No
Underfloor heating
Yes
Humidity resisstant
No
Manufacturer warranty in years
25-year warranty in residential / 3-year warranty in commercial
Wear class
23/32
Abrasion class
AC4
Height (mm)
8,00
Thickness (mm)
8,00
Width (mm)
326,00
Length (mm)
1.380,00
Quality
A1 sorting
Eco-label / Certification
Manufacturer EAN
Skaben 4056004099096
Manufacturer's laying instructions

Download

Manufacturers fact sheet

Download

Manufacturer's warranty document

Download

Manufacturer's care instructions

Download