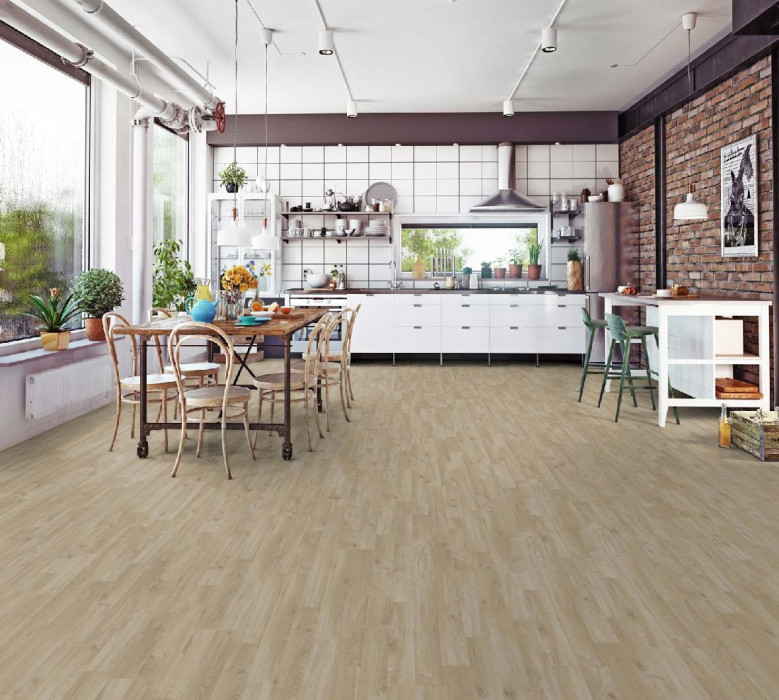 Skaben Laminate Flooring Lofty 7 Winter Oak Natur 2-plank
Item number:
SK_L_36207KR-0001
Article is on stock and dispatched within 24 h (Delivery within ca. 2-4 working days) - "Choose your own delivery date" available.
Free shipment
for flooring of
25m²
within Germany
Suitable accessories
Information
Manufacturer:
Skaben Laminate
Series:
Lofty 7
Surface:
Wood pores / Typical wood texture
Decor:
Winter Natural oak
Chamfer:
no joint
Service class:
23/31
Abrasion class:
AC3
Warranty:
20 years warranty in residential / 2 years in commercial areas
Installation connection:
locking mechanism
Construction:
On the top side of the floor - a particularly resistant overlay protective film is applied, which is pressed together with an attractive, resin-based decorative film to form a wear-resistant surface. A specially swelling-tempered and highly compressed fibreboard forms the carrier layer (HDF, E 1). A moisture-inhibiting stabilising film on the underside of the carrier board ensures the high dimensional stability of the Skaben laminate.
Thickness:
7mm
Width:
19,3cm
Length:
1,376m
Piece in package:
9 this corresponds to 2,39m²
More Information

Laminate floor in stylish oak decor by Skaben

Skaben Lofty 7 Winter Oak Natural Oak 2-plank laminate adds an elegant and hard-wearing floor to living spaces. The natural oak decor gives a harmonious impression, while the excellent material and manufacturing quality ensures durability and ease of care. Secure this versatile laminate floor for your renovation project now.

Skaben Laminate in Winter Oak natural decor 2-strip

The laminate in Skaben's Winter Natural Oak décor has a harmonious wood grain, which can be seen over a large area thanks to the seamless bevel. The special feature of this floor is the display of wood pores, which give it a natural flair. This light-coloured laminate has an immediate homely and inviting effect and harmonises with many different interior styles. Its decor is resinous and sealed with an overlay protective film, so that it is optimally protected against mechanical effects, fading, abrasion and other damage. The laminate flooring corresponds to abrasion class AC3.

The structure of the laminate in the decor winter oak nature by Skaben

Renewable raw materials are used for the production and the floor is completely recyclable. A compacted and swell-protected HDF carrier board provides the necessary stability. A moisture-inhibiting film on the underside of the plate prevents swelling. This laminate is therefore also suitable for laying on underfloor heating. The surface of the floor is treated with resin and provided with an overlay protective film. This makes the laminate resistant to abrasion, light, wear and tear and flame retardant. In addition, the floor is antistatic and antibacterial, so that dirt and germs can be removed easily and thoroughly. Even stains, streaks, abrasion and fading have no chance.

Lay laminate in winter décor natural oak floating

This laminate from Skaben enables simple and quick floating installation without adhesive residue. The laminate floor is immediately dimensionally stable and can be walked on directly. It proves to be pressure-resistant and insensitive to stains. In addition, the result is an excellent walking comfort. As the floor does not contain any chemical plasticizers or DEHP, it is suitable for installation in children's rooms or bedrooms. However, with service classes 23 and 31, it is also possible to spread the material in utility rooms such as commercial premises, corridors, cellars or foyers. Discover the advantages of Skaben Laminate Lofty 7 Winter Natural Oak for renovations. Here in the shop you will find this and many other top products from Skaben in high brand quality and at a reasonable price.

Dimensions: 1376 x 193 mm
Thickness: 7 mm
Service class private living area: Service class 23 | Heavy duty in private living area (hallway, kitchen, living room, home office)
Service class commercial: Service class 31 | Moderate use in commercial areas (hotel rooms, conference rooms)
Guarantee: 20 years for private use
Resistance to abrasion: AC3
Installation type: locking mechanism lengthwise and crosswise
Thermal resistance: 0.05 (m²K)/W

Brand
Skaben
Manufacturer series name
Lofty 7
Type of wood or style / pattern
Oak
Decor - wood pattern
Winter oak nature
Color World
Beige brown & Friendly
Surface
Wood pores / Typical wood structure
Product group
2-strip
Blue Angel Ecolabel
Yes
Bevel
No
Type of bevel
No joint
Construction
On the top side of the floor - is applied a particularly resistant overlay protective film, which is pressed together with an attractive, resinous decorative film to form a wear-resistant surface. A specially swell-tempered and highly compressed fiberboard forms the carrier layer (HDF, E 1). On the underside of the carrier board, a moisture-inhibiting stabilizing film ensures the high dimensional stability of the Skaben laminate.
Installation
Floating installation
Link / joint / connection type
Locking mechanism - Click connection
Integrated sound insulation
No
Underfloor heating
Yes
Humidity resisstant
No
Manufacturer warranty in years
20-year warranty in residential / 2-year warranty in commercial
Wear class
23/31
Abrasion class
AC3
Height (mm)
7,00
Thickness (mm)
7,00
Width (mm)
193,00
Length (mm)
1.376,00
Quality
A1 sorting
Eco-label / Certification
Manufacturer EAN
Skaben 4056004098587
Manufacturer's laying instructions

Download

Manufacturers fact sheet

Download

Manufacturer's care instructions

Download