Whether solid wood planks or multi-layer parquet planks the length makes them what they are. They have always been considered very valuable, because in the past, planks were obtained exclusively from the "heart board" in the middle of the trunk. And even today, planks have a high value, because solid wood floors are used less and less, because imitations like laminate and also vinyl floors are getting better and better and look deceptively real. However, these imitations still cannot imitate the unique naturalness and pleasant room feeling of a real wooden floor.
Planks are planed from whole pieces of wood and are usually tongue and grooved. Mainly used are planks from local species such as fir, larch, spruce and pine, but also well-known nut trees such as oak or even maple and beech.
Planks are commercially available in a wide variety of structures, ranging from knot-free to knot-rich with fine cracks and resin inclusions. A distinction is made here between the particularly fine and harmoniously structured floors with uniform color and few knotholes and the more lively-looking structures. The designations are Select, Natur, Country and Rustikal, with Select designating the finest and Rustikal the most lively structure.
The plank lengths are divided into three categories. Fixed length planks have a standard length and have tongue and groove around them. These planks can be laid regularly or irregularly, which allows you to determine the spatial feeling of your floor.
Also available are planks in falling length, the laying of which is always irregular. The 1 - 2.5 m long planks are sorted by hand, which ensures a beautiful result. Planks in room length provide a very orderly straight-line feeling of the room. They have bungs only on the sides.
The width of the planks is one of the decisive factors for the price. Planks range in width from 95 to 175 mm, with wider planks being more expensive but ensuring a more stable structure.
Solid wood planks are very durable, because they can be sanded down to the tongue and groove, which gives a wear layer of about 12-15 mm thick. At this point it is worth mentioning that you should pay attention to the construction height of the floor, because solid wood planks are much higher in construction than many other floors.
Country house floorboards are probably the most popular floorboards today. They are characterized by the fact that they perfectly combine nature and technology. This is because they retain the typical plank width and length, and also have a two-layer or multi-layer structure. Particularly noteworthy is that the top layer continues to be made of one sheet, thus preserving the beautiful plank look.
In terms of structure, it is very similar to the multilayer parquet. In addition to the top layer, it consists of a middle layer and a counter layer. The individual layers are glued together with hot glue, making them particularly durable.
Planks are also far more sustainable than solid wood planks, because more top layers can be obtained from one tree than solid wood planks. They also carry the advantage that they can be sanded and thus renovated.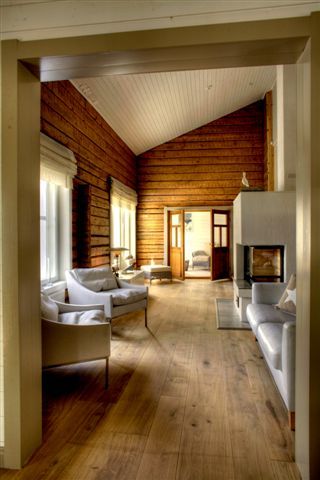 Oak plank oiled
Just like parquet, planks, solid wood as well as country house planks are available with different surface treatments. Which treatment is given priority depends on the stress and their personal taste.
The first variant is based on sealing with a wood varnish. Here, the varnish forms a protective film layer that covers the pores of the wood, preventing dirt from penetrating. This layer is also very hard and makes the floor extremely easy to maintain. The disadvantage of this variant is that the varnish layer is very sensitive to scratches and in the case of deeper scratches, the wood can be damaged more quickly by moisture. Also, the natural feeling under the feet is lost by a varnish sealing, because the wood is no longer directly walked on as such.
The situation is different with oil or wax treated floors. The oil or wax penetrates into the pores of the wood and fills them. Thus, the naturalness of the wood is preserved. The pores are not closed and the floor can continue to work freely. Very practical, in the case of minor wear and tear, it is not necessary to sand and replace the entire floor, because the affected area, can be very quickly and easily abgeschlanden and re-treated with a natural oil. The disadvantage of this variant is that the maintenance requirement is very high and the floor must be re-oiled or re-waxed more frequently.
Solid wood flooring is nailed to substructures. Floating installation or full-surface gluing is conceivable for country house floorboards. Also typical for the country house floorboards are practical click connections, which can be installed very easily and quickly. When laying, however, it is essential to follow the manufacturer's instructions. For both solid wood planks and country house planks, it is also important to use the right underlay.
At www.parkettkaiser.de you will find country house floorboards as described in this article, with all their advantages in construction and installation and in the various surface treatments, designs and superstructures.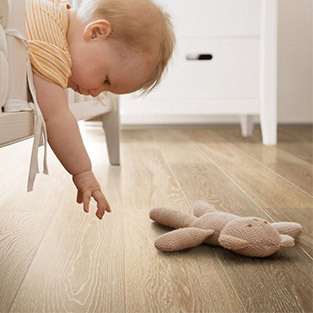 Oak plank three-layer, smoked and oiled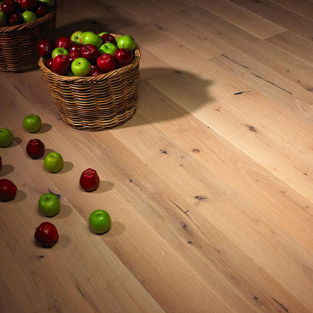 Oak plank three-layer, white oiled