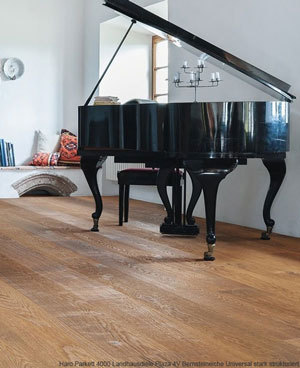 Parquet is a quality product that has proven itself for many centuries with its timeless elegance and easy care and durability. Its pleasant feeling underfoot is also an important aspect for many customers and makes your parquet floor a long companion in your four walls.
The flooring made of wood, is mostly made of oak, beech, pine or the overseas species. These types of wood, when processed into parquet flooring, are available in a wide variety of forms. The range of colors is also very wide.
Parquet distinguishes between single-layer and multi-layer parquet. The single-layer parquet consists of solid solid wood and is often called solid parquet. It is usually untreated (without varnishes and oils) either glued over the entire surface or nailed to a wooden structure and finished with varnishes, oils or waxes after installation. Multi-layer parquet can be laid as a floating floor or glued over the entire surface. Due to the special click connections, the individual elements are only clicked together without additional gluing. In the case of floating installation, additional impact sound insulation can be installed for further optimization. Multilayer parquet does not require any further treatment after installation, which is why it is often referred to as finished parquet.
The scale is very variable and can be adjusted to the creative needs of each. The important and common types of parquet have been standardized. This guarantees exact installation and assures that manufacturers adhere to these specified standards, which include the certain element structure, design, as well as dimensions.
There are also non-standardized parquet elements offered by some manufacturers, installers and trading companies, for example, the on-edge lamella parquet or the panel parquet.
Parquet, with its durability, has a decisive advantage over all other floors, because, depending on the thickness of the real wood layer, it can be easily sanded, usually even several times, and thus renovated.
To make your floor even more durable and resistant, the surface of the parquet floor is often waxed, naturally oiled or sealed. Advantages of natural oiled/waxed parquet are that the pores are not closed here and the parquet can continue to work freely, unlike a lacquered parquet. It should also be emphasized that in the case of minor wear and tear, the entire floor does not have to be sanded and replaced. The affected area can be quickly and easily sanded and treated with a natural oil. With lacquered parquet, on the other hand, the surface is sealed so that the pores are closed, preventing dirt from penetrating. However, the sealing does not guarantee protection against moisture, so we recommend cleaning the floor with a damp cloth. Unfortunately, if there are signs of wear, the entire parquet surface must be sanded and refinished.
Itis also important to note that parquet, because it is a product made of wood, a natural material, is hygroscopic. This means that it reacts to changes in the room climate and absorbs moisture, for example, and expands slightly. This is absolutely natural and unproblematic. Accordingly, the parquet will swell slightly in summer and shrink slightly in winter. Ideal room conditions are a humidity of approx. 50 - 60% at approx. 20°C.
Laminate flooring does not fall under the term "parquet" . Laminate is a floor coated with plastic and inlaid with printed papers, consisting of a carrier layer made of a wood-based material.