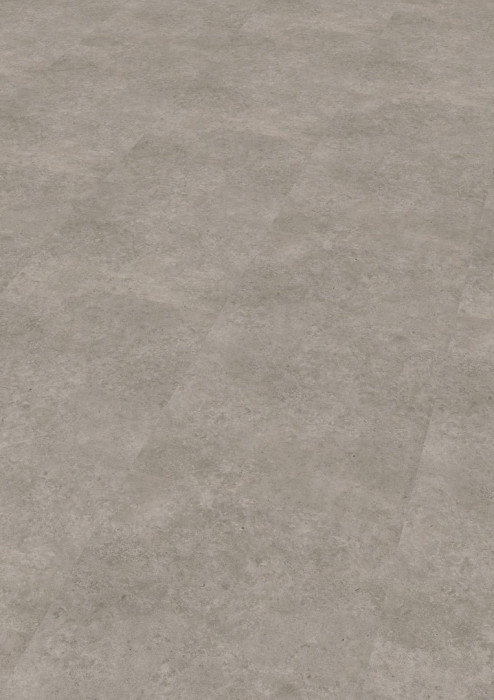 Wineo Vinyl flooring 800 Stone Calm Concrete Tile Bevelled edge for clicking in
Item number:
WIN_D_DLC00094-0001
From 115.72 m² for each €38.53 m² Incl. VAT.
buy and 21
Add the desired quantity to the shopping cart - the price will be updated automatically.
Article is on stock and dispatched within 24 h (Delivery within ca. 2-4 working days) - "Choose your own delivery date" available.
Free shipment
for flooring of
25m²
within Germany
Suitable accessories
Information
Manufacturer:
Wineo Vinyl
Series:
800 Stone
Surface:
Sand texture
Decor:
Calm Concrete
Bevel:
Bevelled edge
Service class:
23/33/42
Warranty:
25 years warranty in the living area
Installation connection:
Connect technology
construction:
Heterogeneous plastic planks for floating installation
Thickness:
5mm
Width:
48cm
Length:
0.914m
Piece in package:
6 this corresponds to 2.63m²
More Information

Wineo Vinyl 800 Stone Calm Concrete tile optics bevelled edge to click - the uniqueness of washed-out concrete optics!

Grey as a trend colour is not only rough and brute, but in the style of the concrete look it is both attractive and mysterious. Striking shades and washed-out colour contrasts enliven the Wineo Vinyl 800 Stone Calm Concrete tile flooring with a bevelled edge that clicks and is reminiscent of the moon at night, whose crater landscape also shines in shades of grey. The surface is also able to convey this attraction and enriches every living area as well as every restaurant or reception hall of large hotels. The big advantage seems to be the colour neutrality of the grey surface, which can be combined with any other colour

Stone Calm Concrete tile look - the plus in stability and floor quality!

The brand manufacturer WINEO® is entering the premium segment of high-quality flooring with this tile look. The surface, which is both non-slip and easy-care, was sealed and PU surfaces were refined. The structure of the 5 mm thick and heterogeneous plastic plank is a multi-layered construction of different layers, each of which can be assigned a different task. Starting with an insulating mat with an anti-slip effect, which is able to compensate for any unevenness in the floor and also reduces footfall sound, the stability of each individual plank is guaranteed by a base layer and wear layer. This leads to the classification of the flooring in the residential sector in service class NK 23, whereas the flooring in the commercial sector is classified in service class NK 33 and on an industrial scale NK 42.

The joint-gentle and elastic surface of the plastic plank is suitable for damp areas and can be laid over underfloor heating. The easy and quick installation of the flooring creation is guaranteed by a Connect technology, which has a bevelled edge at the joint. The phthalate-free material is also very environmentally friendly and comes with a 25-year guarantee from the manufacturer in the home. In summary, the following advantages result:

Decor: Calm Concrete
Colour world: grey and puristic
Surface: Sand structure

Underfloor heating suitable
Phthalate-free, without harmful plasticisers
Service classes 23/33/42
Tile look 800 Stone Tile XL
Warranty: 25 years in the living area

The washed-out decor of puristic concrete look!

With the 800 Stone XL tile look, the surface of the decor, which resembles concrete, is given a suitable shape to give the floor a stylish look. Both white and dark furniture, couch sets or bar counters can be combined with the present colour sample. Even bright and shrill colours, such as in a children's room, are the perfect partner to harmonise with the existing floor. Since vinyl flooring is also suitable for wet rooms, there is an excellent contrast between the matt floor surface and the glossy surface of a bathtub or sink. The wide range of possible uses for the flooring at hand is therefore its great advantage and the beauty of its memorable colour scheme.

Brand
Wineo
Manufacturer series name
800 Stone XL
Type of wood or style / pattern
Concrete
Decor - wood pattern
Calm Concrete
Color World
Grey & Puristic
Surface
Sand structure
Product group
Tile optics
Bevel
Yes
Type of bevel
Chamfered edge
Construction
Heterogeneous plastic planks for floating installation
Installation
Floating installation
Link / joint / connection type
Connect technology - Click connection
Integrated sound insulation
No
Underfloor heating
Yes
Humidity resisstant
Yes
Manufacturer warranty in years
25 years warranty in the living area
Wear class
23/33/42
Surface layer mm
0,55
Height (mm)
5,00
Thickness (mm)
5,00
Width (mm)
480,00
Length (mm)
914,00
Quality
A1 sorting
Eco-label / Certification
Manufacturer article number
Wineo DLC00094
Manufacturer EAN
Wineo 4017268216728
Manufacturer catalogue

Download

Manufacturer's laying instructions

Download

Manufacturers fact sheet

Download

Manufacturer's care instructions

Download