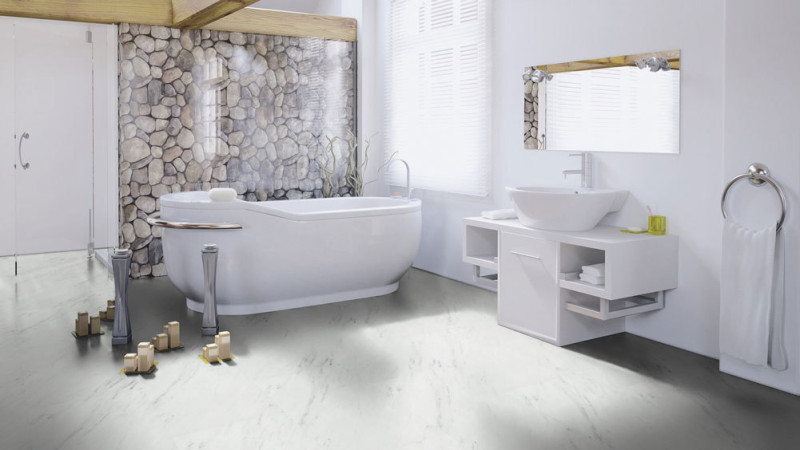 Wineo Vinyl flooring 800 Stone White Marble Tile Bevelled edge for gluing
Item number:
WIN_D_DB00090-0001
From 167.2 m² for each €24.01 m² Incl. VAT.
buy and 29
Add the desired quantity to the shopping cart - the price will be updated automatically.
Article is on stock and dispatched within 24 h (Delivery within ca. 2-4 working days) - "Choose your own delivery date" available.
Free shipment
for flooring of
25m²
within Germany
Suitable accessories
Information
Manufacturer:
Wineo Vinyl
Series:
800 Stone
Surface:
Sand texture
Decor:
White Marble
Bevel:
Bevelled edge
Service class:
23/33/42
Warranty:
25 years warranty in the living area
Installation connection:
for gluing
construction:
Heterogeneous plastic planks for gluing
Thickness:
2,5mm
Width:
45,72cm
Length:
0,9144m
Piece in package:
10 this corresponds to 4,18m²
More Information

Elegant vinyl floor 800 Stone White Marble

With this modern Wineo vinyl floor you can beautify and enhance living and utility rooms. This tile-look floor features an elegant marble decor that beautifully highlights a bright and friendly stone structure. In addition, this vinyl offers many advantages for flexible installation and heavy-duty use. Find out more about the 800 Stone White Marble vinyl floor from Wineo here.

Vinyl floor in high quality marble decor

This high quality vinyl floor in White Marble décor has a bright and fresh colour. Its stone structure also makes living and utility rooms friendly, inviting and homely. In addition, this floor is versatile in installation, as it is also suitable for laying on underfloor heating and in damp rooms.

Variable installation of vinyl floor in marble decor

This vinyl floor in tile look not only allows a stylish interior design, but can also be laid in an extremely variable way. The planks are lined up and glued together using a click system. The fine stone decor and bevelled edges complement each other to create a harmonious installation pattern. The floor corresponds to service classes 33, 23 and 42, making it a good choice for storage rooms, cellars and workshops. The plastic planks have a thickness of 2.5 millimetres. They are 0.9144 metres long and 45.72 centimetres wide. Per package you will receive 10 planks for an area of 4.18 square meters.

Durable floor for everyday use

The robust Wineo vinyl floor is hard-wearing, durable and easy to clean for everyday use. The coated surface ensures that furniture and chair castors leave no marks. It is also insensitive to scratches, streaks, abrasion, stains and fading. The footfall sound insulation guarantees low-noise acoustics. In addition, this floor in White Marble decor is warm to the feet, easy on the joints and non-slip. This ensures a pleasant walking comfort. The plasticizer-free vinyl flooring has a manufacturer's guarantee of 25 years when installed in living areas. Here is a clear list of the advantages of using vinyl flooring in the White Marble decor from Wineo:

varied and bright marble decor
warm to the feet
easy and flexible to install
suitable for damp locations
low-noise room acoustics
25 years warranty

Vinyl floor in marble look beautifies living and utility rooms

The marble look of this vinyl floor from Wineo is particularly elegant and of high quality. The White Marble décor is bright and friendly and forms a nice contrast to dark furniture. In addition, this modern vinyl floor offers many advantages in everyday use and installation. You too can opt for a vinyl floor in White Marble from Wineo.

Dimensions: 914.40 x 457.20 mm
Total thickness: 2,50 mm
Wear layer: 0,55 mm
Service class private living area: NK 23 | hall, kitchen, living room, home office
Service class commercial area: NK 33 | Department stores, lobbies, schools, open-plan offices, corridors
Service class light industry: NK 42 | Storage rooms, workshops
Warranty: 25 years in the living area
Suitable for damp locations
PU surface refinement
Phthalate-free (without harmful plasticizers)

Brand
Wineo
Manufacturer series name
800 Stone XL
Type of wood or style / pattern
Marble
Decor - wood pattern
White Marble
Color World
Bright & Fresh
Surface
Sand structure
Product group
Tile optics
Bevel
Yes
Type of bevel
Chamfered edge
Construction
Heterogeneous plastic planks for gluing
Installation
Glue-down installation
Link / joint / connection type
For gluing
Integrated sound insulation
No
Underfloor heating
Yes
Humidity resisstant
Yes
Manufacturer warranty in years
25 years warranty in the living area
Wear class
23/33/42
Surface layer mm
0,55
Height (mm)
2,50
Thickness (mm)
2,50
Width (mm)
457,20
Length (mm)
914,40
Quality
A1 sorting
Eco-label / Certification
Manufacturer article number
Wineo DB00090
Manufacturer EAN
Wineo 4017268464037
Manufacturer catalogue

Download

Manufacturer's laying instructions

Download

Manufacturers fact sheet

Download

Manufacturer's care instructions

Download