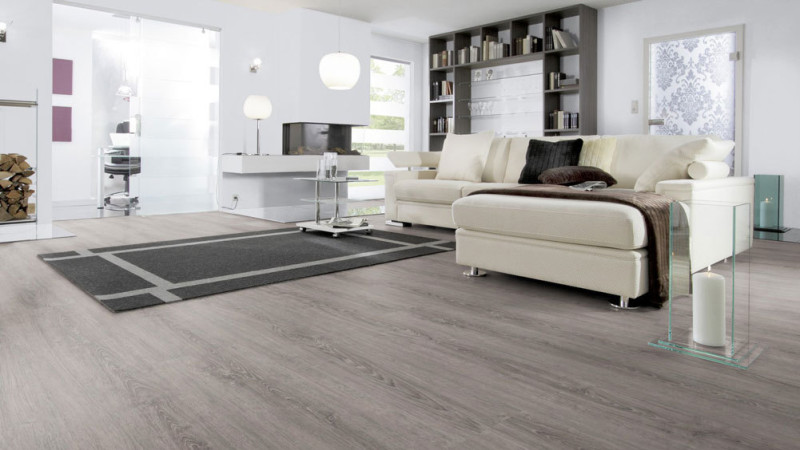 Wineo Vinyl flooring 800 Wood Lund Dusty Oak 1-strip Bevelled edge for clicking in
Item number:
WIN_D_DLC00065-0001
From 119.84 m² for each €38.53 m² Incl. VAT.
buy and 21
Add the desired quantity to the shopping cart - the price will be updated automatically.
Article is on stock and dispatched within 24 h (Delivery within ca. 2-4 working days) - "Choose your own delivery date" available.
Free shipment
for flooring of
25m²
within Germany
Suitable accessories
Information
Manufacturer:
Wineo Vinyl
Series:
800 Wood
Surface:
Synchronous embossing
Decor:
Lund Dusty Oak
Bevel:
Bevelled edge
Service class:
23/33/42
Warranty:
25 years warranty in the living area
Installation connection:
Connect technology
Construction:
Heterogeneous plastic planks for floating installation
Thickness:
5mm
Width:
23,7cm
Length:
1,505m
Piece in package:
6 this corresponds to 2,14m²
More Information

Wineo Vinyl Floor 800 Wood Lund Dusty Oak 1-plank plank bevelled edge to click fits into any environment with easeIn

the past, many consumers were sceptical about PVC floors. The new generation is considered to be harmless to health and convinces with a high degree of functionality. A prime example of this is the modern Wineo vinyl floor 800 Wood Lund Dusty Oak 1-plank plank bevelled edge to click. The material does not contain phthalates as plasticizers or other harmful substances. Rather, this product can be considered one of the most hard-wearing and easy-care floor coverings of all. The Wineo Vinyl Floor 800 Wood Lund Dusty Oak 1-plank wideplank is suitable for children's rooms and is also popular in kindergartens and schools. Especially because of its insensitivity to dirt and moisture, the subfloor is a real blessing for heavily used floor surfaces. The elastic property also contributes to a healthy and comfortable running feeling. The joints are protected with every step and the non-slip surface promises first-class surefootedness. In addition, the vinyl floor feels visibly warmer, like laminate or tiles. In short, with this high-quality product you can look forward to a fascinating experience for feet and senses.

This design element will give you pleasure for a long timeWith

vinyl flooring, you can truly no longer speak of a no-name product. Rather, with this collection the consumer encounters an absolute brand product. The high-quality PU surface finish alone offers excellent protection against stains, abrasion and scratches. Even if high heels are used to walk over the floor covering or furniture is moved, the top layer retains its shine. Other aspects promise excellent quality.

The material is 100% water resistant, so the design floor can even be installed in damp rooms
The installation of the floor is surprisingly simple and quick thanks to a clever installation technique
In the living area the manufacturer promises a guarantee of 25 years
The vinyl floor is suitable for underfloor heating

The grey goes well with fashionable colours and even dark furniture. In addition, the neutral splash of colour contributes to a comfortable ambience. The puristic design appears timeless, effective and aesthetic. Without question, here you will find a vinyl floor that can easily cope with all facets of everyday life. At the same time the underground leaves a great impression. Every single panel reflects purity, elegance and class. Even in open-plan offices, cafés, boutiques or department stores, this product line represents an enormous enrichment. At the same time this vinyl floor signals a professional atmosphere.

Dimensions: 1505 x 237 mm
Total thickness: 5,00 mm
Wear layer: 0,55 mm
Service class private living area: NK 23 | hall, kitchen, living room, home office
Service class commercial area: NK 33 | Department stores, lobbies, schools, open-plan offices, corridors
Service class light industry: NK 42 | Storage rooms, workshops
Warranty: 25 years in the living area
Suitable for damp locations
PU surface refinement
Phthalate-free (without harmful plasticizers)

Brand
Wineo
Manufacturer series name
800 Wood XL
Type of wood or style / pattern
Oak
Decor - wood pattern
Lund Dusty Oak
Color World
Grey & Puristic
Surface
Synchronous embossing
Product group
1-plank plank
Bevel
Yes
Type of bevel
Chamfered edge
Construction
Heterogeneous plastic planks for floating installation
Installation
Floating installation
Link / joint / connection type
Connect technology - Click connection
Integrated sound insulation
No
Underfloor heating
Yes
Humidity resisstant
Yes
Manufacturer warranty in years
25 years warranty in the living area
Wear class
23/33/42
Surface layer mm
0,55
Height (mm)
5,00
Thickness (mm)
5,00
Width (mm)
237,00
Length (mm)
1.505,00
Quality
A1 sorting
Eco-label / Certification
Manufacturer article number
Wineo DLC00065
Manufacturer EAN
Wineo 4017268216643
Manufacturer catalogue

Download

Manufacturer's laying instructions

Download

Manufacturers fact sheet

Download

Manufacturer's care instructions

Download