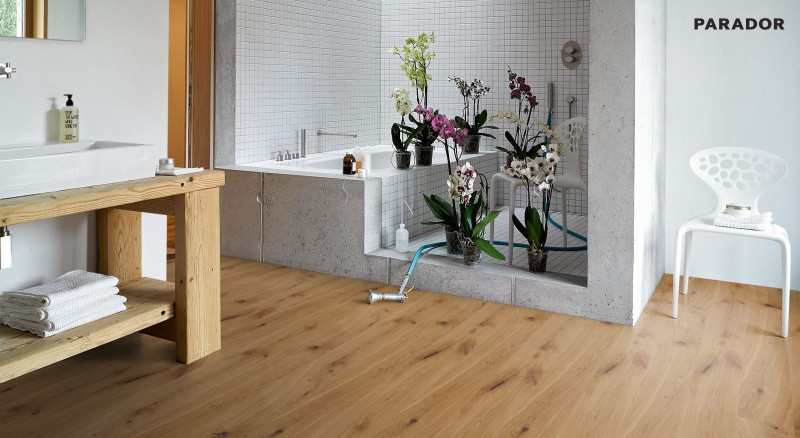 Parador Parquet Basic 11-5 Rustikal Oak Natural oil 1-strip M4V
Item number:
PAR_1518249-0001
From 130.24 m² for each €56.02 m² Incl. VAT.
buy and 22
Add the desired quantity to the shopping cart - the price will be updated automatically.
Article is on stock and dispatched within 24 h (Delivery within ca. 2-4 working days) - "Choose your own delivery date" available.
Free shipment
for flooring of
25m²
within Germany
Suitable accessories
Information
Manufacturer:
Parador Engineered Wood Flooring
Series:
Basic 11-5 Full Plank
Sorting:
RusticSurface
:
Natural oiled
Décor:
Oak
bevel:
Circumferential mini bevel, M4V
Guarantee:
15 years for private use
Installation connection:
Automatic-Click
Thickness:
11,5mm
Width:
18,5cm
Length:
2,2m
Piece in package:
10 this corresponds to 4,07m²
More Information
Engineered Wood

Flooring Model Rustic oak wideplank for every situation

The tastes with regard to various floor coverings are quite different, so it is a great advantage that the manufacturer of Parador Engineered Wood Flooring offers numerous beautiful decors. This model Basic 11-5 in rustic oak plank design is a guarantee for a sophisticated look. Furthermore, the flooring can offer a wide range of attractive features, as this model is not only naturally oiled and has a surrounding mini bevel, but also comes with a 15-year guarantee, whereby the condition of private use must be fulfilled instead of commercial use. Beginners as well as experts can easily lay out the floor by means of an Automatic-Click-version. One package contains 10 pieces of extension pieces. The designs that Parador offers are not only gorgeous, but also represent timeless classics. With regard to swelling protection, the floor is provided with a lamella and top layer impregnation. The Parador Engineered Wood Flooring model Basic 11-5 also has a warm red-brown colour tone.

Natural Oiled
Mini bevel
15-year guarantee
Warm decor in red-brown

Ideal parquet for every situation in life

Whether a family is looking for the right parquet, singles, couples, flat-sharing communities etc. This parquet flooring in rustic oak plank look is suitable for every situation and sweeten the respective living ambience immensely. The surface of this floor covering is naturally oiled and belongs to the plank product group. A chamfer is present and the construction is simple and floating. In terms of quality, the floor is the first choice for all those parquet fans who value a warm appearance. Even if cooler silver or white tones are combined with this floor, the overall result is still a warm note. Quite a few furnishing experts consciously focus on contrasts anyway and like to play with warm and cool colours in order to combine them perfectly. This is achieved fantastically with this floor and provides a timeless and enormously elegant and homely eye-catcher.

Manufacturer information at a glance

Whatever manufacturer information is required, it is available for download on the website. This applies to the manufacturer's catalogue and installation instructions as well as to the manufacturer's data sheet and the respective guarantee. It should be noted here that each floor has an individual warranty period and also depends on whether the floor is used privately or commercially. All in all, the floor is a perfectly chosen basic element for the whole house or for a single room. Friends of warm elegance will not be able to get enough of this floor, because it captivates with grace and comfort at the same time.
Brand
Parador
Manufacturer series name
Basic 11-5
Type of wood or style / pattern
Oak
Decor - wood pattern
Oak
Color World
Red brown & Warm
Surface
natural oiled
Parquet flooring sorting
Rustikal
Product group
Plank
Blue Angel Ecolabel
Yes
Bevel
Yes
Type of bevel
Circumferential minifase, M4V
Construction
3-layer
Installation
Floating installation
Link / joint / connection type
Automatic-Click - Click Connection
Integrated sound insulation
No
Underfloor heating
Yes
Humidity resisstant
No
Manufacturer warranty in years
15 years for private use
Surface layer mm
2,5
Height (mm)
11,50
Thickness (mm)
2,50
Width (mm)
185,00
Length (mm)
2.200,00
Quality
A1 sorting
Eco-label / Certification
Manufacturer article number
Parador 1518249
Manufacturer EAN
Parador 4014809162490
Manufacturer catalogue

Download

Manufacturer's laying instructions

Download

Manufacturers fact sheet

Download

Manufacturer's warranty document

Download