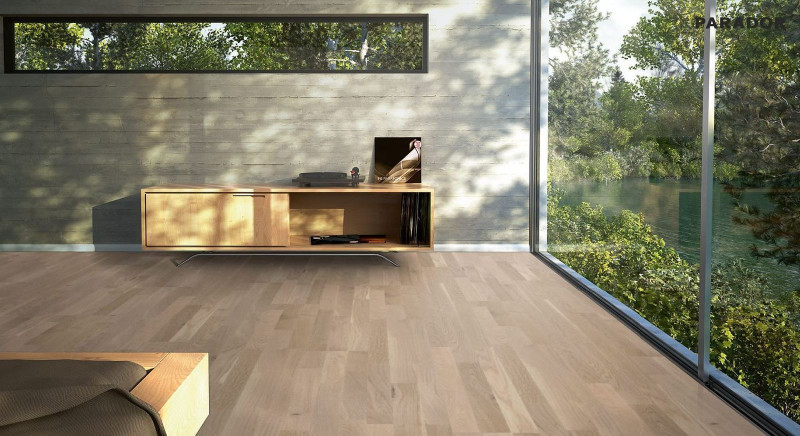 Parador Parquet Classic 3060 Living Oak White matt lacquer 3-strip
Item number:
PAR_1247127-0001
From 117.216 m² for each €42.30 m² Incl. VAT.
buy and 23
Add the desired quantity to the shopping cart - the price will be updated automatically.
Article is on stock and dispatched within 24 h (Delivery within ca. 2-4 working days) - "Choose your own delivery date" available.
Free shipment
for flooring of
25m²
within Germany
Suitable accessories
Information
Manufacturer:
Parador Engineered Wood Flooring
Series:
Classic 3060 3-plank block
Sorting:
LivingSurface
:
lacquer-finish matt white
Decor:
Oak
bevel:
without joint
Warranty:
25 years for private use
Installation connection:
Automatic-Click
Thickness:
13mm
Width:
18,5cm
Length:
2,2m
Piece in package:
9 this corresponds to 3,663m²
More Information

Parador Engineered Wood Flooring Classic 3060 Living Oak 3-strip Ship's Floor - the sustainable, 100% natural floor covering

Parador Engineered Wood Flooring is a 100% natural product, as it is made entirely of wood. With this floor covering you give the room a very special touch. But a wooden floor not only looks good, it also actively contributes to a healthy indoor climate. Depending on the relative humidity in the room, wood absorbs or releases moisture. This keeps the humidity in the room within a comfortable and healthy range for the person.

Important properties of Parador Engineered Wood Flooring Classic 3060 Living Oak 3-plank

block

Dimensions: 185 mm x 2200 mm x 13 mm
Thickness of the wear layer: 3.6 mm
Wood species: Oak
Surface sealed with lacquer
triple-layered
free from pollutants
the wood used comes from sustainable forestry
for floating installation
Connection technology: Automatic-Click
suitable for installation over underfloor heating systems
not suitable for humid rooms
25 years warranty for private use

What surface structures are there?

Parador Engineered Wood Flooring Classic 3060 is offered with different surface structures. Hand scraped" means a processing consisting of sawing, brushing and manual finishing. This emphasizes the character of the wood. Parquet with a "sawed structure" looks like from "old times" when the floor boards were still sawn by hand. A "brushed" surface was treated with stainless steel brushes. This highlights the grain of the wood. "Wavescraped" is a surface treatment that is based on the action of water waves. Irregular and shallow depressions in the surface are characteristic of this. This processing is not only visible, but also tangible. "Elephant Skin" makes the wood look almost antique. The characteristics of the wood, such as cracks, knots and grain, are especially emphasized.

Certified safety

With Parador engineered wood you can be sure that it does not emit any harmful substances and is sustainable. The "Blue Angel", the "LGA Quality Certificate" and the LGA seal "tested for harmful substances" guarantee that the parquet is harmless to health. The "PEFC" and "FSC" seal indicates that the wood used comes from sustainable forestry and is therefore environmentally friendly.

Why is the parquet made of three layers?

Parquet absorbs or releases moisture. It expands or contracts in the process. With solid wood parquet this can quickly lead to cracks and distortions in the floor. To prevent these unpleasant side effects, this Parador engineered wood consists of three layers

the top layer, also known as the wear layer, of oak wood
a middle layer of spruce-fir sticks
the backing veneer of coniferous wood

The rods of the middle layer are attached at right angles to the direction of the wear layer. This reduces the movement of the wood by up to 70 %. The backing veneer ensures dimensional stability.
Brand
Parador
Manufacturer series name
Classic 3060
Type of wood or style / pattern
Oak
Decor - wood pattern
Oak
Color World
Beige brown & Friendly
Surface
lacquer sealed matt white
Parquet flooring sorting
Living
Product group
3-strip ship's floor
Blue Angel Ecolabel
Yes
Bevel
No
Type of bevel
Without joint
Construction
3-layer
Installation
Floating installation
Link / joint / connection type
Automatic-Click - Click Connection
Integrated sound insulation
No
Underfloor heating
Yes
Humidity resisstant
No
Manufacturer warranty in years
25 years for private use
Surface layer mm
3,6
Height (mm)
13,00
Thickness (mm)
3,60
Width (mm)
185,00
Length (mm)
2.200,00
Quality
A1 sorting
Eco-label / Certification
Manufacturer article number
Parador 1247127
Manufacturer EAN
Parador 4014809107774
Manufacturer catalogue

Download

Manufacturer's laying instructions

Download

Manufacturers fact sheet

Download

Manufacturer's warranty document

Download