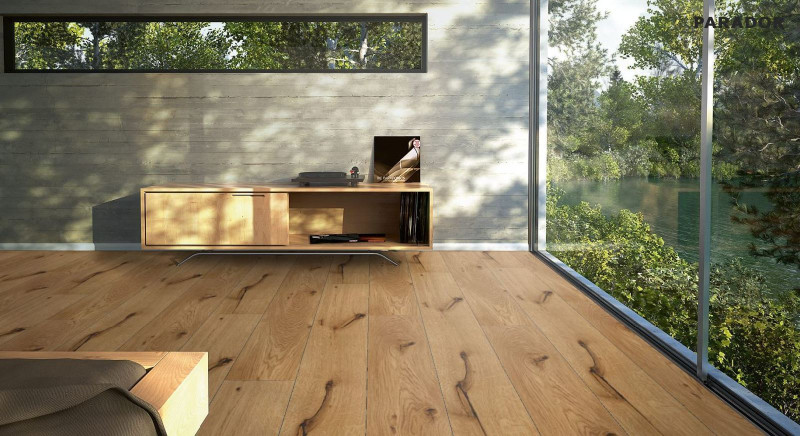 Parador Parquet Classic 3060 Rustikal Oak Matt lacquer 1-strip M4V
Item number:
PAR_1358529-0001
From 117.216 m² for each €59.01 m² Incl. VAT.
buy and 34
Add the desired quantity to the shopping cart - the price will be updated automatically.
Article is on stock and dispatched within 24 h (Delivery within ca. 2-4 working days) - "Choose your own delivery date" available.
Free shipment
for flooring of
25m²
within Germany
Suitable accessories
Information
Manufacturer:
Parador Engineered Wood Flooring
Series:
Classic 3060 Full Plank
Sorting:
RusticSurface
:
matt lacquer-finish
Decor:
Oak
bevel:
Mini bevel all round, M4V
Guarantee:
25 years for private use
Installation connection:
Automatic-Click
Thickness:
13mm
Width:
18,5cm
Length:
2,2m
Piece in package:
9 this corresponds to 3,663m²
More Information

Stylish Parador Engineered Wood Flooring Classic in Rustic Oak for a classic or modern ambience

The versatile engineered wood from Parador has a simultaneously elegant and rustic-natural look. It thus corresponds to the typical style of the popular Classic line and is suitable for various furnishing styles. The grain is lively but subtle, so that you can use the attractive parquet flooring universally. At the forefront of Parador's quality philosophy is the high standard of living comfort and durability. You can also enjoy the clear design language of the plank. These are constructed in 3 layers, with a middle layer of solid spruce fir. The all-round impregnation of the lamellas and top layer ensures optimum protection against swelling. You may also be interested in the 25-year guarantee for private homes.

Details of Parador Engineered Wood Flooring Classic 3060

The Parador Engineered Wood Flooring Classic 3060 Rustic Oak wideplank M4V has an inviting character with its beige-brown colour. This is due on the one hand to the authentic Rustikal grade, and on the other hand to the matt lacquer finish of the surface. There are other properties that are decisive for laying. The 1-plank wideplank can be locked with the Automatic-Click connection system on the long side and the top edge. This gives the floorboards an excellent grip.
Further product information about the parquet floorboards:

Plank format 2,200 x 185 mm
Thickness: 13 mm
Top/cover layer: approx. 3.6 mm
Circumferential mini chamfer (M4V)
Floating installation with Automatic-Click
Circumferential lamella and top layer impregnation
Manufacturer warranty: 25 years in private homes

Classic Rustikal oak - a parquet design for many requirements

The modern and hard-wearing engineered wood flooring from Parador is characterised by excellent stability. The basis for this is the 3-layer sandwich construction with spruce-fir middle layer. With this equipment the floor covering is also suitable for your hall and other heavily frequented areas. Due to its suitability for underfloor heating, the parquet has proven itself in new buildings as well as in older buildings. Regardless of your style of living, the floorboards not only give your home a fresh look, but also have a positive effect on the health of your home. This is due to the high quality of the parquet wood that you can buy in our online shop. The surrounding joint is also responsible for the good appearance and pleasant feel. This emphasizes the natural structure of the floor boards.

Brand
Parador
Manufacturer series name
Classic 3060
Type of wood or style / pattern
Oak
Decor - wood pattern
Oak
Color World
Red brown & Warm
Surface
lacquer sealed matt
Parquet flooring sorting
Rustikal
Product group
Plank
Blue Angel Ecolabel
Yes
Bevel
Yes
Type of bevel
Circumferential minifase, M4V
Construction
3-layer
Installation
Floating installation
Link / joint / connection type
Automatic-Click - Click Connection
Integrated sound insulation
No
Underfloor heating
Yes
Humidity resisstant
No
Manufacturer warranty in years
25 years for private use
Surface layer mm
3,6
Height (mm)
13,00
Thickness (mm)
3,60
Width (mm)
185,00
Length (mm)
2.200,00
Quality
A1 sorting
Eco-label / Certification
Manufacturer article number
Parador 1358529
Manufacturer EAN
Parador 4014809123880
Manufacturer catalogue

Download

Manufacturer's laying instructions

Download

Manufacturers fact sheet

Download

Manufacturer's warranty document

Download