Optimal flooring for pets - flooring vinyl, laminate, parquet, cork flooring, linoleum and carpet comparison
Soil for our animal friends
Sixty-two percent (62%) of all German households own at least one pet. Of these, dogs and cats are by far the most popular pets among Germans. So if we love animals so much, surely our households should also be suitable for them? We choose furniture that is as robust as possible, set up scratching posts and avoid all risks of injury. So why not choose a pet-safe floor as well?
Because not only you, but also your faithful companion, should enjoy your floor. And even if we are reluctant to accuse him of evil, we should still be aware that sharp, pointed claws, cause scratches and furrows on our floors.
Oiled parquet floor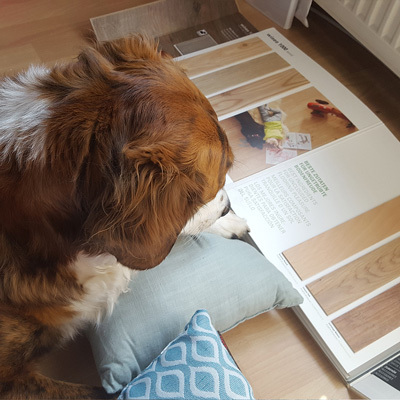 Themost suitable flooring for animals is also the most natural. That is why oiled parquet floorsare particularly suitable for all households with animals, as oiled wood surfaces are closest to raw wood and are very insensitive to your appearance. Their surfaces are matte, so scratches and even furrows are hardly noticeable. Also, oiled parquet floors give enough grip to the paws of your animals and are additionally water-repellent and easy to clean.
Oiled parquet is suitable for households with animals

Matt surface - scratches and furrows are hardly noticeable

Gives animals enough grip

Water repellent and easy to clean
Oiled cork flooring
Oiled cork flooring is also recommended for households with lighter animals, such as small dogs and cats, as well as rodents like rabbits .Cork floors are additionally particularly easy on the joints. Their springy structure and warming properties make them especially comfortable for older pets.
For lighter animals (small dogs and cats)

Particularly easy on the joints

Springy structure

Warming

Especially suitable for older pets
Lacquered cork floor
This is different with varnished surfaces. These are very slippery, from which the joints can suffer. Scratches and furrows are also usually more noticeable on lacquered surfaces and cannot be selectively sanded and renovated. Oiled parquet at this point already the right cleaning and care with oil can revive the floor and prevent scratches and furrows.
Nevertheless, if a lacquered surface is desired and will be home to small pets, such as cats or rabbits, a matte finish should be chosen if possible, as all glossy surfaces are more slippery and show scratches more clearly.
Very slippery

Scratches and furrows are more noticeable

Cannot be spot sanded and refurbished

Glossy surfaces are more slippery than matt ones
Laminate flooring
Laminate is actually very suitable for animals due to its extremely scratch-resistant surface, if it weren't for the increased risk of slipping with normal laminate. Fortunately, there is very good non-slip as well as water-resistant laminate. Make sure that the laminate surface has a slip resistance class of at least R10 according to DIN 51130 (the higher the number after the "R", the better). In addition, good surface sealing of the edges is important so that the laminate can survive minor "accidents" as undamaged as possible .Laminate is one of the hardest and best to clean floor coverings. If you have animals in the house , you must make absolutely sure that no standing puddles of urine remain on the floor for a long time, as it tends to swell after hours of standing liquid.
Increased risk of slipping with standard laminate (only buy laminate from slip class R10 upwards)

Can be cleaned very well

Suitable for all pets (except chronic incontinence)

Quiet flooring when used with a good underlayment

Tends to swell with standing puddles of urine

Surface scratch resistant from use class 31 or better
Vinyl flooring / design flooring
The problem of swelling does not apply to vinyl floors. In addition, these are very slip-resistant, waterproof and with good floors also antibacterial and are suitable from 4 mm thickness and use class 23/31 especially for heavy dogs such as large shepherds. Easy to clean and pet-friendly vinyl and design floors present themselves .
Also suitable for heavy pets (from 4 mm total thickness and use class 23/31)

Slip-resistant, waterproof (and ideally antibacterial)

Easy to clean
Feature

Floor covering vinyl / design flooring

Parquet

Laminate

Cork flooring

Linoleum

Carpet

hard-wearing

★★✩

★★✩

★★★

★✩✩

★★★

★★✩

water repellent

★★★

★★✩

★★✩

★✩✩

★★★

★✩✩

anti-slip

★★★

★★✩

★★✩

★✩✩

★★✩

★★★

easy to clean

★★★

★★✩

★★★

★✩✩

★★★

★✩✩

easy to maintain

★★★

★★✩

★★★

★✩✩

★★★

★✩✩

Claws resistant

★★✩

★★✩

★★★

★✩✩

★★✩

★✩✩

Pet type

All pets

Also for heavy animals

All pets

Parquet must be maintained

All pets from
Slip class R10

Avoid urine puddles!

Small dogs and cats

Nail animals

All pets

All pets

High cleaning and maintenance effort
★✩✩ = satisfactory / ★★✩ = good / ★★★= very good
Soil care
After choosing the floor, you also need to pay attention toadequate cleaning and maintenance. The maintenance of your floor is significantly increased by pets, but you should still avoid using particularly aggressive or corrosive cleaners, as they are not healthy for your pet or your floor. For example, to take care of your floor, more frequent re-oiling and proper antibacterial cleaning is absolutely necessary for naturally oiled hardwood floors. Check out our post "Why is proper floor care important?" and the "Care" section ofour website, for appropriate cleaners and care products for your floor. All cleaners offered by us are free of toxins and harmless to humans and animals as long as they are not drunk directly.