Which floor is suitable dance floor?
When it comes to dancing, the right dance floor can be crucial. Whether classical or contemporary dance in groups, couples or singles, every dancer depends on the floor as much as the right dance shoes. Dance floors must stand up to the high demands of dance practice in terms of injury prevention and health maintenance. It is crucial that the dance floor offers the dancer a secure base and supports him in his movements.
Specialists in the flooring sector have developed in recent decades for dance and theater. These offer special dance or sprung floors, so-called dance carpet, dance floors made of special PVC, are preferred in many dance schools and theaters. Under no circumstances should these be confused withnormal vinyl flooring.
However, good, hard, noble parquet floors are also excellent for dancing. For a small dance studio in the private sector, we recommend light 3-strip parquet of a high use class. Parquet is especially characterized by its robustness. Another decisive advantage of parquetflooring is additionally its durability, which issupported by regular maintenance .Traces of wear and tear caused by dancing, moreover, even years after laying, can be sanded, so that you always get a floor like freshly laid.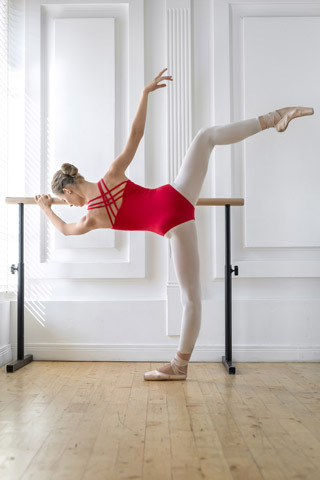 Three main points to consider before buying a floor:
1. Slip resistance
To minimize the risk of injury, it is essential to pay attention to the slip resistance of the floor. Dance floors must be neither too smooth nor too dull. In addition, different dance styles require different floor surfaces. Parquet is comparatively less slippery than laminate, but smooth and even enough to allow smooth movements and grinding figures and reduce the risk of falls.
2. Robustness
A dance hall is not a living room, but a space for high-performance athletes. Therefore, only floors of the highest service class, class 41 and above, may be installed. Only particularly solid floors have the stability and robustness to absorb and withstand jumps and dance movements. Other floors would not be able to permanently withstand the forces and impacts exerted. Nevertheless, parquet floors remain very gentle on joints and tendons.
3. Impact sound
Even though dancers usually seem to float light as a feather over the parquet , a dance floor must notdo without impact sound insulation .Parquet isalso convincing in this point with an inherently low impact sound, which can usually be completely minimizedby special underlays .
Those who choose parquet should choose a hard wood. In the field of theater, darker to black parquetis usually chosen for aesthetic reasons . For classical as well as contemporary dance ,light-colored floors are preferred, because on them distances, as in the case of jumps, are easier to estimate. For a small dance studio in the private sector, we recommend light 3-strip parquet of a high use class.
In any case, we ask you to consult with the floor manufacturers to guarantee that your floor choice meets the given specifications and standards.